Prime Minister Nguyen Xuan Phuc hosted a reception in Hanoi on March 4 for a delegation of the US-ASEAN Business Council (US-ABC) led by its President and CEO Alex Feldman. PM Phuc said he was delighted to know that the US Center for Disease Control and Prevention has recently removed Vietnam from the list of destinations with risk of COVID-19 outbreak spread. He affirmed that Vietnam has strived to take effective measures in the fight against the epidemic, thereby reaping positive results.
Feldman, for his part, said he is accompanied by representatives from tens of US-ABC member enterprises who want to explore cooperation opportunities in Vietnam. Expressing his hope that the ASEAN-US Summit will be held soon, Feldman said the US business community believed that the Vietnamese government will succeed in containing the outbreak. The US-ABC also plans to launch a support programme for Vietnam's businesswomen this year, he said. 
On the occasion, US Ambassador to Vietnam Daniel J. Kritenbrink conveyed a letter of President Donald Trump to the PM explaining the postponement of the ASEAN-US Summit over COVID-19 fears. He affirmed that the US highly valued Vietnam's efforts in dealing with issues related to bilateral ties, especially trade. Speaking highly of Vietnam's efforts to well control the epidemic, the ambassador noted that US enterprises feel secure when being present in Vietnam during the visit.
PM Phuc said Vietnam is working on a plan to achieve a harmonious and balanced trade with the US. As for several specific contents, Vietnam will work closely with the US to devise suitable measures meeting both sides' interests, he said, adding that Vietnam pledges to offer all possible support to US companies to successfully do business in the country.
Under the witness of PM Phuc, Vietnamese Minister of Industry and Trade Tran Tuan Anh and US-ABC President Feldman exchanged a Memorandum of Understanding (MoU) on enhancing industry and trade cooperation between the Ministry of Industry and Trade and the US-ABC.
The MoU outlines a number of priority goals, including boosting cooperation in trade promotion, economical and effective use of energy, industry and chemicals, goods consumption in domestic markets, sharing of information for the development of e-commerce and digital economy, protection of consumers and popularisation of laws.
On March 5, Politburo member and head of the Party Central Committee's Economic Commission Nguyen Van Binh hosted a reception for a delegation of the US-ASEAN Business Council (USABC). At the meeting, Binh expressed his pleasure with the sound development of the Vietnam-US comprehensive partnership in areas, thus bringing big benefits to both countries' peoples.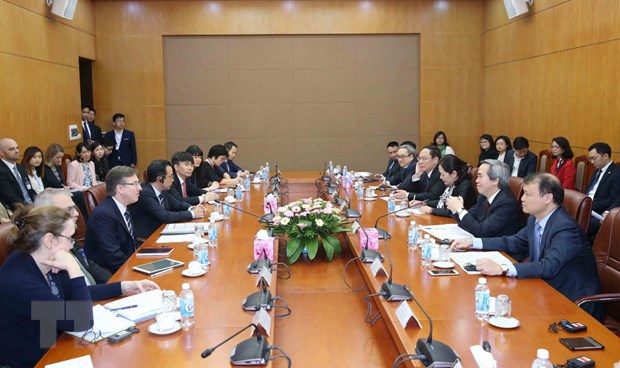 He highlighted Vietnam's determination and outcomes in combating the COVID-19 outbreak through drastic measures as well as support and involvement of Vietnamese people. He said ASEAN's activities in 2020, when Vietnam serves the role of the Chair of ASEAN, will still take place as scheduled, despite impacts of the outbreak.
On the occasion, the two sides discussed issues on institutions, socio-economic development of Vietnam, mechanisms, recommendations in the fields that US businesses are interested in such as energy, infrastructure, agriculture, digital economy and science-technology.
The US delegation affirmed to continue closely coordinating with the Vietnamese Party and Government, and contributing to promoting economic ties, trade and investment between the two countries in the coming time.-VNA
According to US-ABC, over the course of three days, the delegation also engaged Chairman of the Office of the Government Mai Tien Dung, Minister of Planning & Investment Nguyen Chi Dung, Minister of Information and Communications Nguyen Manh Hung, Minister of Culture, Sports & Tourism Nguyen Ngoc Thien, and leaders of other key Ministries and State agencies.
Companies participating in the Vietnam Business Mission include 3M, AES, Amazon Web Services, Bank of America, Bay Global Strategies, Bayer, BowerGroupAsia, Cigna, Citibank, Coca-Cola, Discovery, ExxonMobil, Facebook, FedEx Express, Ford Motor Company, GE, Google, GSK, KKR, Herbalife Nutrition, Netflix, Pernod Ricard, PMI, P&G, Suntory PepsiCo, Scowcroft Group, UPS and Visa.
Companies participating in the Health & Life Sciences Industry Mission include Abbott, Amway, Bay Global Strategies, Boston Scientific, Cigna, Edwards Lifesciences, GE Healthcare, GSK, Herbalife Nutrition, Johnson & Johnson, KPMG, Medtronic, MSD, Novartis, Pfizer, Roche, Sanofi and Scowcroft Group .