A working delegation from the editorial group of the sub-committee on socio-economic affairs of the 13th Party Congress has had working sessions with several organisations and research institutions in Washington DC to study US policies, and gather experts' recommendations to make preparations for Vietnam's socio-economic development strategy in the time ahead.
The delegation, led by Minister of Planning and Investment Nguyen Chi Dung, met with key officials and experts of the World Bank (WB), Brooking Institution, the Centre for Strategic and International Studies (CSIS), and Asia Group, during which they discussed various topics such as global context, trends, goals and vision; solutions to development of Vietnam's economy, science and technology and innovation; East Sea geopolitics, China's Belt and Road Initiative, and the US's Indo-Pacific Strategy.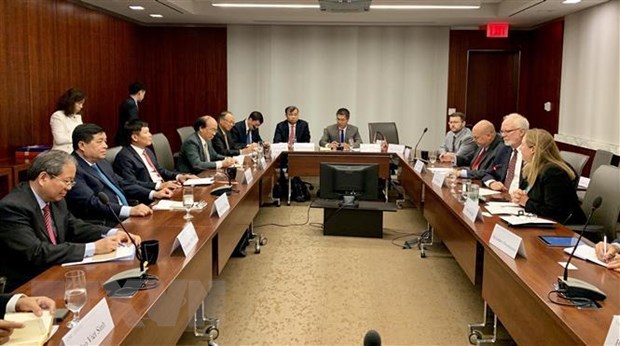 According to experts, the global economy' trends during 2021-2030 will bring both opportunities and challenges to Vietnam. The country will receive short and medium-term benefits thanks to its golden population structure, well-developed private sector and stable interest rate.
They suggested the private sector should be a driving force for Vietnam's economy in the period, and it is necessary for the Southeast Asian country to improve financial capacity in long term, step up institutional reform, better labour productivity, and focus on debt settlement. They particularly noted the nation should take full advantage of the service sector's growth, and expand trade of services.
At the working sessions, both sides also discussed a wide range of issues to help Vietnam boost its socio-economic development in the coming time.
The editorial group is responsible for collecting opinions and completing the draft socio-economic development strategy during 2021-2020. It is studying and giving out orientation for the country's development in the context of changing technologies and deep global integration.-VNA