On September 11, the Embassy of Vietnam in the US held a reception in celebration of the National Day. The event saw senior officials from the US government and Congress as well as ambassadors from Russia, Cuba and countries from the Association of Southeast Asian Nations (ASEAN), international friends and overseas Vietnamese.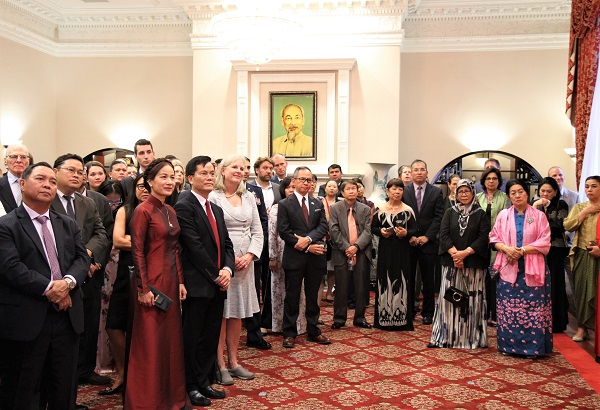 Vietnamese Ambassador Ha Kim Ngoc (photo below) highlighted the significance of the National Day. As a non-permanent member of the UN Security Council for 2020-2021 and ASEAN Chair 2020, Vietnam will continue making contributions to regional and global peace, security and cooperation.
The Vietnam-US partnership has seen dynamic development in all nine cooperation pillars on the basis of mutual understanding and respect for independence, sovereignty, territorial integrity and political institutions. Vietnam has work to balance trade between the two countries and open doors wider for US goods, he said.
Both Vietnam and the US share strategic benefits in settling regional and international issues, especially reinforcing peace, security, cooperation and rules-based order in the Indo-Asia-Pacific region, ensuring navigation and aviation safety and freedom, and legal economic activities in the East Sea, Ngoc said.
The two countries have coordinated to boost cooperation in the Greater Mekong Subregion (GMS) in fields of mutual concern such as infrastructure, energy and water resources security, he said, adding that Vietnam is making contributions to negotiations between the US and the Democratic People's Republic of Korea (DPRK).
The ambassador thanked the US, ASEAN member countries and the international community for supporting Vietnam in developing the nation and safeguarding national sovereignty and territorial integrity. He also appreciated efforts of the overseas Vietnamese community in the US to promote bilateral relations.
David Stilwell, Assistant Secretary of State for the Bureau of East Asian and Pacific Affairs (photo below), said Vietnam and the US have cooperated to address challenges in the Indo-Pacific region, including security challenges in the GMS, contributing to maintaining a peaceful and prosperous region.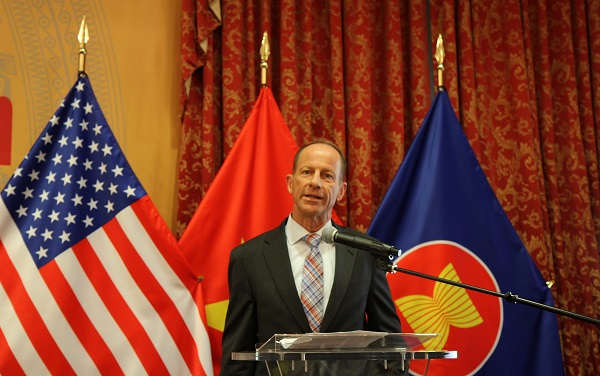 Deputy Assistant to the President and Senior Director for Asia at the National Security Council (NSC) Matt Pottinger (photo below) conveyed the congratulations of US President Donald Trump on Vietnam's National Day.
The US thanked Vietnam for hosting the second US-DPRK summit in Hanoi, he said, adding that the US is supporting Vietnam in defending national independence and sovereignty in the East Sea.
US Congressman Ted Yoho (photo above) said bilateral relations are developing in all fields, especially trade, defence, settlement of post-war consequences and regional issues- VNA