Diplomats and scholars of Vietnam and the US have gathered at a seminar in Washington DC, discussing a wide range of cooperation fields, including defence and security, between the two countries.
At the seminar held at the Centre for Strategic and International Studies (CSIS), US Assistant Secretary of Defence for Asian and Pacific Security Affairs Randall Schriver highlighted the growing defence relations between the two nations over the last two years as seen through many milestones, including the visit to Vietnam by USS Carl Vinson in March 2018 – the first trip to the country by a US aircraft carrier since 1975.
Schriver also mentioned many fields of bilateral cooperation, including dioxin detoxification at Bien Hoa airport in southern Vietnam, helping to enhance defence ties.
Vietnamese Ambassador to the US Ha Kim Ngoc noted in the building of Vietnam-US relations over the last almost 25 years, cooperation in defence and security is one of the highlights in their comprehensive partnership, helping them build mutual trust. In particular, coordination to resolve the war aftermath is one of the most effective common efforts that have paved the way for new relations to leave the past behind and move towards the future, he said.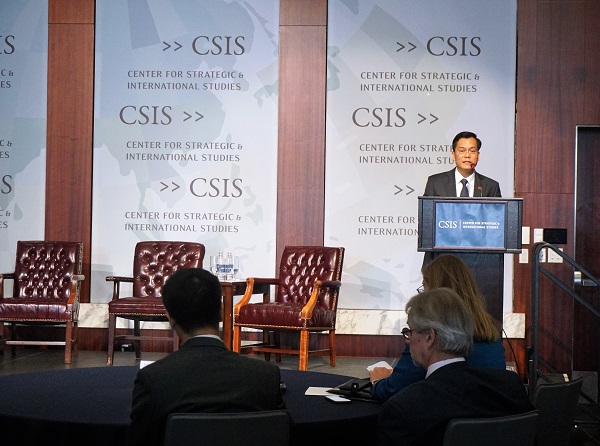 Ngoc stressed that defence-security cooperation between Vietnam and the US is not only limited in bilateral issues but they also coordinate with each other in multilateral and regional mechanisms, including the ASEAN Defence Ministers' Meeting Plus, the ASEAN-US Defence Ministers' Meeting, and the Shangri-La Dialogue.
In the time ahead, the two sides should work together more closely to implement defence cooperation fields under the 2011 memorandum of understanding, the 2015 joint vision statement on defence relations, and the plan of action for defence cooperation for 2018-2020, Ngoc said.
The diplomat added a stable Vietnam-US comprehensive partnership is an important contributor to the maintenance of regional peace, stability, security and cooperation.
The two countries are preparing to mark the 25th founding anniversary of diplomatic ties next year, Ngoc said.
With goodwill and trust building efforts, they are opening up new chapters for substantive cooperation for the next 25 years, he said, noting that there are numerous opportunities for them to enhance ties in economy, defence, security, as well as regional and global issues.
At the seminar, former US Ambassador to Vietnam David B. Shear said over the past years, the two countries have cooperated effectively in many spheres, including settling war consequences, searching for servicemen missing in action, remedying dioxin contamination, and supporting people with disabilities. However, there remain certain challenges and obstacles to bilateral cooperation, he added.
For his part, To Anh Tuan, Deputy Director of the Institute for East Sea Studies under the Diplomatic Academy of Vietnam, said the countries will mark 25 years since the normalisation of their ties in 2020 when Vietnam will hold the ASEAN Chair and is hopeful of being elected a non-permanent member of the UN Security Council for 2020-2021. This will be an important chance for them to foster bilateral cooperation, he noted.-VNA