Prime Minister Nguyen Xuan Phuc had a meeting with US President Donald Trump in Hanoi on November 12, during which the later expressed his pleasure to meet the Vietnamese Government leader again.
The two sides said they were satisfied with the development in the bilateral relations after the US visit by PM Phuc in May 2017, particularly in the fields of politics-diplomacy, economics-trade, security-defense, and settlement of post-war consequences.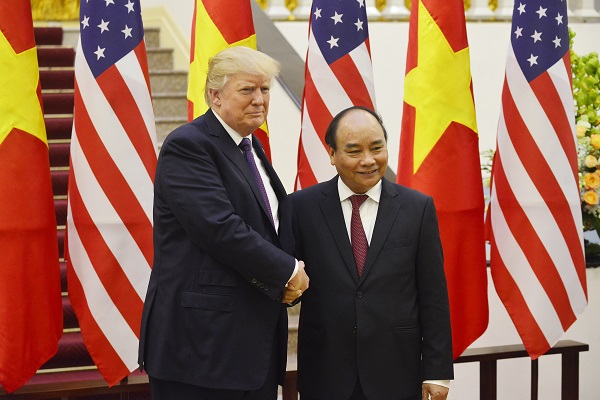 Vietnam and the US vowed to strengthen relations on the basis of respecting the respective independence, sovereignty, territorial integrity, and political systems, for the benefits of both peoples as well as peace, stability, cooperation and development in the region and around the world.
The host and guest exchanged specific measures to promote economic-trade-investment partnership, focusing on building a win-win cooperation framework, minimising trade-investment disputes, and implementing more effectively signed economic deals.
PM Phuc said Vietnam has been improving the business environment and encouraging US companies to make investment in the country. He called for stronger coordination to address issues of mutual concern based on promoting trade for mutual benefits.
He thanked the US for opening its market for Vietnam's star apples and proposed the US consider the import of Vietnamese mangoes and other fruits while simplifying import procedures of the catfish inspection programme and soon launching a working group on Vietnam's market economy mechanism.
President Trump agreed to step up win-win economic-trade-investment cooperation with Vietnam, and lauded Vietnam's effort in handling prioritised trade issues, such as  the opening of its market for US farm produce, industrial products, and information-technology products and services.
While discussing the regional situation, the two sides agreed to address disputes in the East Sea via peaceful means and in line with international law, including the 1982 UN Convention on the Law of the Sea (UNCLOS), while respecting diplomatic and legal processes, implementing fully and effectively the Declaration on the Conduct of Parties in the East Sea (DOC), and soon signing a Code of Conduct (COC) in the East Sea.
They pledged to strengthen coordination at regional cooperation mechanisms, including the upcoming East Asia Summit in the Philippines.
President Trump affirmed that the US will push ahead with cooperation with Vietnam to promote the bilateral comprehensive partnership in a more practical and effective manner.
On November 12 afternoon, the President left Hanoi, wrapping up his State visit to Vietnam on November 11-12 at the invitation of President Tran Dai Quang.-VNA