The US-Asia Institute together with the Vietnamese Embassy in the US have organised a conference about the APEC Vietnam 2017 in Washington DC.
In his introductory speech, Vietnamese Ambassador to the US Pham Quang Vinh said amid opportunities and challenges brought about by changes across the Asia – Pacific, Vietnam chose the theme for this APEC year as "Creating New Dynamism & Fostering a Shared Future".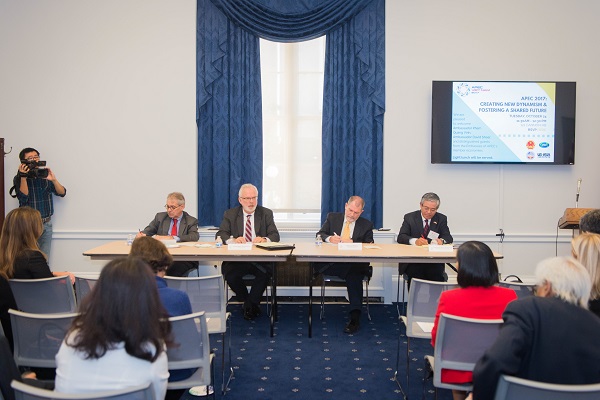 This means a search for initiatives serving vitality, sustainable growth, and trade-investment expansion in the region, he said, adding Vietnam has worked with APEC member economies and business communities toward the outlook since the beginning of 2017.
According to the diplomat, Vietnam has to date organised more than 200 meetings across four key domains – sustainable, creative, and inclusive growth; regional connectivity; capacity building of small- and medium-sized enterprises in digital age; and food security and sustainable farming.
These meetings put forth growth orientations for APEC economies and laid the groundwork for the APEC Economic Leaders' Meeting in Da Nang city, central Vietnam, next November.
Vinh welcomed the upcoming Vietnam visit by US President Donald Trump and his presence at the APEC Economic Leaders' Meeting, with a belief that his visit will stimulate Vietnam – US comprehensive partnership as well as regional cooperation for peace, development and prosperity.
Speakers at the conference, David Shear, Former US Ambassador to Vietnam, and Murray Hiebert, Senior Adviser and Deputy Director of the Southeast Asia Program at the Center for Strategic and International Studies, lauded Vietnam's preparation and organisation of the APEC Year 2017.
They said the APEC forum and Asia-Pacific are important to the US economically and strategically. The country's new administration has continued tightening relations with the region by welcoming visits by the prime ministers of Vietnam, Thailand, Malaysia, and Singapore, and organising visits by its senior officials to the region.
The experts expected Trump's upcoming trip to Asia will reiterate US's commitment to the Asia – Pacific's peace, security, and prosperity, including the freedom of marine navigation and overflight in the East Sea.
On the occasion, the US-Asia Institute presented an insignia to Ambassador Pham Quang Vinh for his contribution to the US – ASEAN relations.
The US-Asia Institute was established as a non-governmental organisation in 1979 to serve as an independent voice in the relationship between the White House and Asia.-VNA