Viet Nam welcomes enterprises from Washington State, like Boeing and Microsoft, to do business in the Southeast Asian nation.
The statement was made by Vietnamese Ambassador to the US Pham Quang Vinh during his recent working visit to the state to meet local leaders, aiming to boost Vietnam – US relations.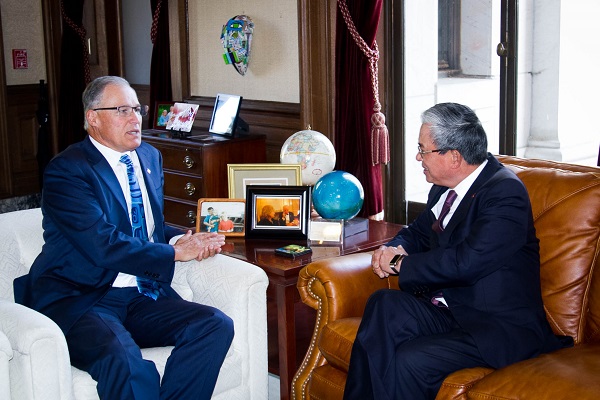 During his meeting with Washington Governor Jay Inslee on October 9 Vinh detailed progress in Vietnam – US ties, saying the two sides agreed to deepen the multifaceted relations within the framework of their comprehensive partnership, including in economics, trade, investment, security-defence, education-training, and people-to-people exchange.
For his part, Inslee briefed Vinh on local development and policies to expand international trade towards Asia, including Vietnam, which has several cooperation agreements with the state.
Vinh expressed his hope that the locality will continue creating favourable conditions for Vietnamese enterprises and people to operate, live and study in the state.
The Vietnamese diplomat later visited the Boeing headquarters, where he was provided with the group's plan on expanding cooperation with Vietnam, including aircraft supply, spare part production, personnel training assistance, enhancement of aviation safety standards.
Vinh highly valued Boeing's effective cooperation in recent times and pledged to facilitate cooperation projects with Vietnam.
The Vietnamese diplomat also attended a seminar with the local business community hosted by the Trade Development Alliance of Greater Seattle and the US National Center for APEC.
He briefed the attendees about Vietnam's socio-economic situation and Vietnam – US economic – trade relations, and answered questions raised by local firms on investment and business opportunities in Vietnam.
Leaders of participating firms expressed their wish to accelerate the supply of goods and services to Vietnam, as well as expand investment and cooperation with Vietnam in various fields, including finance-banking, manufacturing, infrastructure development and real estate, hi-tech agriculture, health care and education.
Washington State serves as an important gate of the US to the Asia – Pacific region, with 75 seaports, 139 airports, and 3,666km of railroads. It is the fourth biggest US exporter, with one third of local jobs related to exports.
In 2016, the state exported and imported 79 billion USD and 47 billion USD worth of products, respectively.
Vietnam is the eighth biggest exporter of the state, with shipments valued at 983 million USD in 2016.-VNA