Defense cooperation between Viet Nam and the US would be developing further, after having reaped new and practical progress, said Vice Chairman of the National Assembly Do Ba Ty.
Ty made the statement at his recent reception for a delegation from the visiting US House Armed Services Committee, led by William Macclellan Thornberry, Chairman of the committee.
He hoped that the US will continue supporting Viet Nam in search and rescue, mine clearance and Orange/Dioxin decontamination.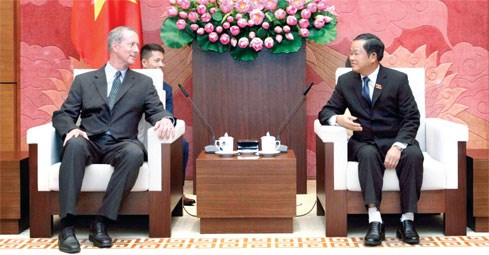 Viet Nam will consistently implement its foreign policy of independence, self-reliance and multilateralization and integration and priotises relations with foreign countries, including the US, he told his guests. Viet Nam wants to promote and deepen the Vietnam-US comprehensive partnership in a more practical and effective manner, making contributions to maintaining peace, stability, and prosperity in the region and in the world, Ty stressed.
For his part, William Macclellan Thornberry lauded Vietnam's achievements during the socio-economic development process and affirmed that the US will be more active in search and rescue, mine clearance and Orange/Dioxin detoxification in Viet Nam.
Earlier, Senior Lieutenant General Nguyen Phuong Nam, Deputy Chief of the General Staff of the Viet Nam People's Army also welcomed the delegation.
Nam and his guests expressed their delight over the sound developing multi-faceted relations between the two countries with defense ties touted as the highlight.
They said that Prime Minister Nguyen Xuan Phuc's official visit to the US will open opportunities for both sides to consolidate and deepen bilateral cooperation.
Nam said that the Vietnamese Ministry of Defence always treasures defense cooperation with the US Department of Defence on the basis of the bilateral comprehensive partnership, a ministry Memorandum of Understanding on promoting bilateral defense relations and a statement on joint vision on defense relations.-VNA