Prime Minister Nguyen Xuan Phuc hosted a reception in Hanoi on June 20 for former US Secretary of State John Kerry, asking him to convey a message to President Donald Trump that there is no confrontation about trade between Viet Nam and the US.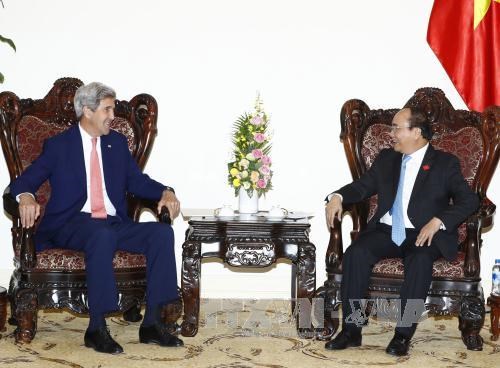 Lauding Kerry's efforts to promote Viet Nam-the US relations, Prime Minister Phuc spoke highly of the Fulbright University Viet Nam project's important role of training high-quality human resources for the country, stating that the Vietnamese Government is interested in the project and supports it.
He noted that cooperation contracts signed between the two countries during his official visit to the American country last month are encouraging achievements in the bilateral collaboration ties.
Phuc expressed his hope that the US will further supports for Viet Nam to respond to climate change as the phenomenon has severely impacted the country, especially the southern region.
For his part, Kerry highlighted that the Vietnamese Prime Minister's visit to the US will make substantial contributions to strengthening sustainable relations between the two nations.
He thanked the Prime Minister for endorsing the Fulbright project, saying that it will play an important role in Viet Nam's socio-economic development. He wished that Fulbright University will help speed up cooperative programs between the two sides.
Viet Nam could be an example for other countries in terms of using renewable energy, Kerry said, underlining that he supports the country in calling for financial support from international organizations for the sector.
Welcoming Kerry's opinion on the matter, Prime Minister Phuc expected that with his prestige, Kerry will do more for the bilateral ties to reap more practical outcomes. -VNA