Senior executives of 29 US businesses expressed their desire to do long-term business in Viet Nam during a meeting with Prime Minister Nguyen Xuan Phuc in Hanoi on March 9.
The delegation, led by Senior Vice President of the US-ASEAN Business Council (UABC) Michael Michalak, viewed Viet Nam as an attractive business destination and expressed their support for trade liberalisation, including the Regional Comprehensive Economic Partnership and other deals.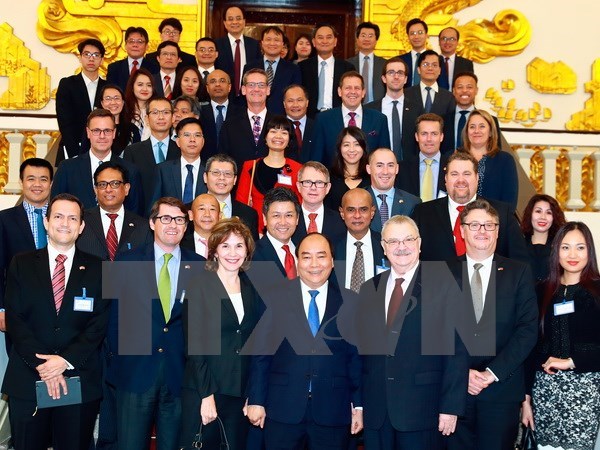 They said they were interested in investing in thermo and wind power, animal feed manufacturing and distribution, chemicals, agriculture insurance, micro-finance, information technology, movies and start-ups in Viet Nam.
The guests thanked the Vietnamese government and agencies for facilitating their expansion in the country and committed to abiding by law in Viet Nam and taking social responsibility via community-based activities.
Though the Trans-Pacific Partnership has stalled, the US investors firmly believed that both sides could work together effectively.
The PM, for his part, congratulated the US firms on their success in Viet Nam over the years and lauded their support to the country. 
He said that Viet Nam considers the US enterprises' success as its own and pledged to listen to their feedback to improve the business climate.
Viet Nam will maintain macro-economic stability, build a transparent and open legal environment and strive to be among top four ASEAN members in terms of business environment, he stated.
Appreciating their interest in diverse areas in Viet Nam, including agriculture and equitisation, the leader said the government will work to keep pace with science-technology advances and pledged to realise signed free trade agreements while building regulations in fields of the firms' interest.
The Vietnamese government wants to push forward long-term friendship with the US on the basis of respect for each other's political regime, he said, adding that the Cabinet is willing to work with US President Donald Trump's administration to boost bilateral ties.
He asked the UABC and US firms to serve as a bridge connecting their business partners and Viet Nam, urge the US government and Congress to enhance investment and trade with Vietnam and the region, back the US administration's recognition of Viet Nam as a market economy and assist Viet Nam in successfully hosting the Asia-Pacific Economic Cooperation (APEC) 2017.
The host emphasised that APEC Year 2017 affords Vietnamese and US firms a chance to increase connectivity.
Taking note of the US investors' proposals, the PM vowed to direct ministries and agencies to consider them soon.-VNA