Vietnam had a successful year in diplomacy in 2016, with its political stability and development potential continually spotlighted and its relations and diverse cooperation with other countries and partners deepened, stated the Foreign Ministry's Spokesperson Le Hai Binh.
At a regular press conference of the ministry in Hanoi on January 12, Binh noted that last year, Vietnam welcomed nearly 30 heads of state.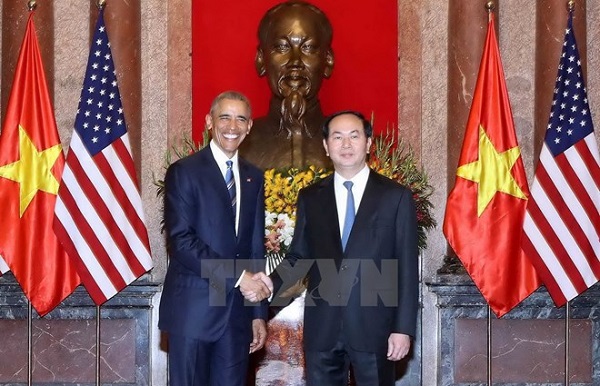 Important events were organized, including the seventh Ayeyawady-Chao Phreaya-Mekong Economic Cooperation Strategy (ACMECS) Summit, the eighth Cambodia-Laos-Myanmar-Vietnam Summit, and the first World Economic Forum on Mekong Region, he said.
At the same time, Vietnam promoted its active role in building the ASEAN Community, while showing strong performance as a member of UN agencies such as the Human Rights Council, Socio-Economic Council, and UNESCO Executive Board.
The first time, a representative of Vietnam was elected to the UN International Law Commission, he highlighted.
Vietnam has set up strategic partnership with 15 countries and comprehensive partnership with 10 countries, including all world powers and the five members of the UN Security Council.
With the conclusion and continuous negotiations of 16 free trade agreements, Vietnam has enforced free trade deals with 60 partners that hold 90 percent of the world's GDP and 80 percent of global trade, said Binh.
He underlined that last year, the Foreign Ministry also took a number of measures to call for the support of international friends and the Vietnamese community abroad to the country's reform, international integration and development.
The ministry also worked to boost the effective and active engagement of Vietnam in 70 organisations and cooperation mechanisms from sub-regional, regional to global levels.
The Spokesperson stated that in the coming time, Vietnam will continue prioritising comprehensive and intensive international integration, aiming to introduce to the world a dynamic economy, a beautiful country with rich culture, tradition, tangible and intangible cultural heritage of humankind, and an attractive destination for investment, business and tourism.
Vietnam's largest diplomatic activity in 2017 is the hosting of the APEC Year. This is the second time in 10 years that Vietnam has been chosen as the host of the event, showing the country has gained international credibility for its international integration efforts, he said.
Other important events include the 40th anniversary of Vietnam's joining of the UN, and ASEAN's 50th founding anniversary, he added./.