Prime Minister Nguyen Xuan Phuc expressed his delight at the development of Vietnam-US ties, especially since the establishment of comprehensive partnership, during a reception for visiting US Secretary of State John Kerry in Hanoi on January 13.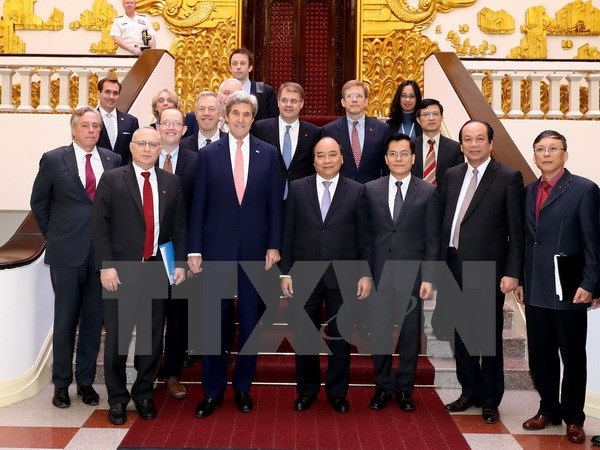 The PM expressed his belief that the two nations will further enhance the stable, long-term, practical and effective ties based on respect to their institutions and national development roadmap.
The two sides need to devise a plan to continue maintaining cooperation, including facilitating exchanges and joint work in post-war recovery and expanding other cooperative areas, he said.
The host reiterated the invitation to US President-elect Donald Trump to visit and attend the Asia-Pacific Economic Cooperation (APEC) Summit 2017 in Vietnam, and spoke highly of Kerry's contributions to normalising and promoting bilateral ties over the past decades.
He informed his guest that he held phone talks with US President-elect Donald Trump to congratulate on him on his election victory and discuss ways to boost ties.
Vietnam will continue partnering with the new US administration to push forward the stable, long-standing, practical and effective bilateral ties, he pledged.
Kerry, for his part, believed that the new administration will continue the policy of strengthening ties with the region, including Vietnam, and vowed to be a friend of Vietnamese country and people.
Sharing view that the Fulbright University Vietnam is one of outstanding examples of Vietnam-US ties, host and guest committed to speeding up the project./.