Washington DC (VNA) – Deputy Prime Minister and Foreign Minister Pham Binh Minh reaffirmed Vietnam's consistent policy of supporting comprehensive nuclear weapon disarmament and nuclear weapon non- proliferation, while emphasising the rights of countries to use nuclear energy for peaceful purposes.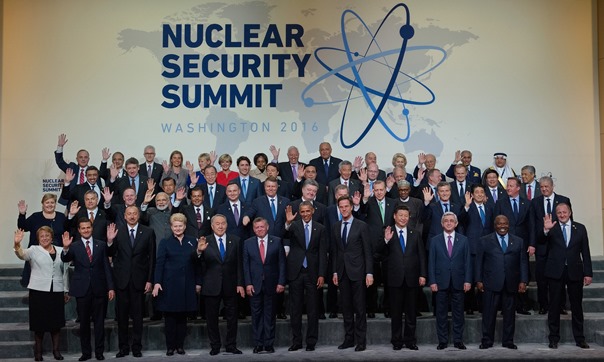 The Vietnamese official made the remark at the ongoing 4th Nuclear Security Summit in Washington DC on April 1, which focused on issues related to nuclear security, and the actions countries and international institutions can take to enhance nuclear security.
At the event, Minh along with senior officials from 52 other member nations of the Summit, approved the meeting's Statement and Action Plans for five international initiatives and organisations in the field.
In his speech at the Summit, the Vietnamese official appreciated the efforts and achievements made by member countries over the last six years to ensure nuclear security, stressing that the global nuclear security structure and public awareness of nuclear security was improved, and international treaties on nuclear security were widely ratified by countries. He also highlighted the role played by international organisations and multilateral initiatives, especially the leading role of the International Atomic Energy Agency (IAEA) i n ensuring global nuclear security. He said terrorism, especially nuclear terrorism, and nuclear weapons p roliferation continue to threaten peace and security, and undermine the implementation of the legitimate rights of countries in using nuclear energy for their development. Vietnam strongly backs the Summit's Statement and five Action Plans, he affirmed.
Minh also underlined the need to promote action coordination and information sharing among international mechanisms, as well as among countries, to improve the efficiency of fighting potential nuclear terrorism activities and to enhance nuclear security in line with international law and the laws of each country. Vietnam is a member of almost all international treaties on nuclear weapon disarmament and non- proliferation, Minh stated, adding that the country is ready for its participation in the International Convention for the Suppression of Acts of Nuclear Terrorism. In the post of Chair of the IAEA Board of Governors 2013-2014, Vietnam made active and responsible contributions to the activities of the organisation, especially in ensuring nuclear security and safety, Minh said.
He also affirmed Vietnam's commitment to continue contributing to facilitating the application of peacful nuclear technology, including ensuring security for nuclear power development.
On the sidelines of the summit, the Vietnamese official had separate meetings with Chinese President Xi Jinping, Swiss President Johann Schneider-Amman, Japanese Prime Minister Shinzo Abe, Indian Prime Minister Narendra Modi, Australian Foreign Minister Julie Bishop and Romanian Foreign Minister Lazar Comanescu. During the meetings, they discussed specific measures to further boost multi-faceted cooperation for the development of Vietnam and relevant countries, and for peace and stability in the region and the world./.