Washington DC (VNA) - Vietnamese Ambassador to the US, Pham Quang Vinh, chaired the regular meeting of the ASEAN Committee in Washington (ACW) on March 21.
Representatives from ten ASEAN member states were joined by US Assistant Secretary of State for East Asia and the Pacific Daniel Russel, Deputy Assistant Secretary of State Colin Willett, Acting Deputy Assistant Secretary of State James Carouso, and President of the US-ASEAN Business Council Alexander Feldman .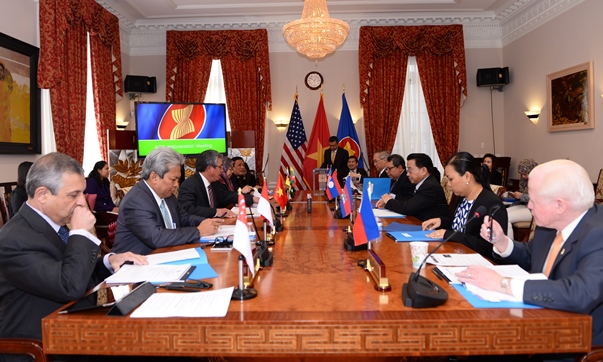 The meeting discussed the implementation of agreements reached at the ASEAN-US Summit in Sunnylands, California in February and the ASEAN Foreign Ministers ' Retreat (AMM Retreat) in Vientiane, Laos.
ASEAN ambassadors hailed the ASEAN-US Summit as an important event that helped strengthen the bilateral strategic partnership and demonstrated the US' long-term commitment to the ASEAN region.
The US side pledged to increase its support for ASEAN's eight priority cooperation fields in 2016, as well as the bloc's efforts to consolidate solidarity, build the community and enhance its central role in the region.
Ambassador Vinh said ASEAN and the US should closely cooperate to ensure peace, stability, and development in the region, including security and navigation freedom and safety on the East Sea. He suggested the US side to further support the ASEAN Economic Community as well as accelerating the implementation of the ASEAN-US Connect initiative announced at the ASEAN-US Summit in Sunnylands, including support for innovation and startups.
Daniel Russel affirmed that the US is determined to develop the strategic partnership with the ASEAN and support the ASEAN Community and the central role of ASEAN in the region. He also expressed concern about the recent happenings in the East Sea and shared the US viewpoint on the nuclear issue on the Korean Peninsula.
Acting Deputy Assistant Secretary of State James Carouso proposed several measures aiming at deploying the US-ASEAN connectivity initiative and stirring up the startup and innovative spirit in the region.
Meanwhile, Alexander Feldman discussed with ASEAN Ambassador a plan to arrange a trip to US localities for the ambassador to promote economic links between businesses and investors of the ASEAN and the US./.