A forum on energy partnership between Vietnam and the US took place in Washington DC on November 3.
Representatives from relevant US agencies, 40 US enterprises and 12 Vietnamese firms participated in the event. Their discussion revolved around capital sources and technological solutions for energy development.
A range of latest technologies applied in tidal power, energy-saving measures for buildings, and the smart battery system were presented.
Addressing the forum, Vietnamese Ambassador to the US Pham Quang Vinh said the two governments have worked closely at several forums concerning environmental issues and green energy, including APEC, EAS, and Mekong sub-region.
Giant US companies, such as Exxon Mobil, Murphy Oil, General Electric, and Westinghouse, are active in doing business in Vietnam, while US agencies, including the US Trade and Development Agency (USTDA) and the Overseas Private Investment Corporation (OPIC), have aided Vietnam in carrying out several energy projects.
Vinh urged US energy companies to assist Vietnam in expanding and modernising energy infrastructure, particularly amid favourable conditions created by the implementation of the Trans-Pacific Partnership, of which both nations are members.
Officials from the US Departments of State and Energy, and the USTDA acknowledged collaborative potentials in the field with Vietnam.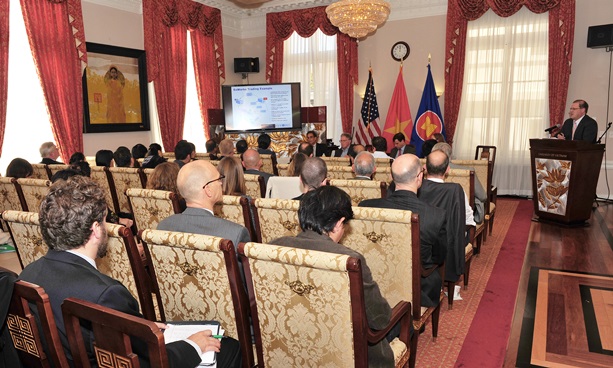 The US Department of Energy considers Vietnam an important partner in the fields of energy and sustainable growth at global forums, they said.
The USTDA said it has thus far sponsored 80 projects on developing infrastructure, diversifying energy sources and improving electricity distribution in Vietnam.
The forum was co-organised by the Vietnam Embassy and the Business Association of Overseas Vietnamese in the US.
List of Documents:
1. Prepared Remarks by H.E. Pham Quang Vinh, Ambassador of Viet Nam
2. Prepared Remarks by Mr. Nguyen Khac Tho, Deputy Director General of Energy, MOIT of Viet Nam
3. Prepared Remarks by Mr. Vikrum A. Sequeira, Senior Advisor for Southeast Asia, Bureau of Energy Resources, U.S. Department of State
4. Prepared Remarks by Ms. Andrea M. Lupo, Director for Global Programs, USTDA
5. Prepared Presentation by Mr. Tang The Hung, Deputy Director of Planning and Master Plan, General Directorate of Energy, MOIT of Viet Nam.
6. Presentation by Mr. John Didiuk, Director, International Project Finance, OPIC
7. Presentation by Ms. Sarah M. Randolph, Country Manager, South East Asia, USTDA
8. Presentation by Mr. Brady Edholm, Interlink Capital Strategies
9. Presentation by Mr. John May, New Vantage Group
10. Presentation by Tumalow – battery energy storage for smart grid
11. Presentation by Verdant Power – tidal energy generation
12. Presentation by OnLocation, Inc – energy markets modeling