VNA - Vietnam and the US state of California have huge potential to step up their cooperation, especially in economics, trade, science-technology, agriculture and rural development, Ambassador Pham Quang Vinh told California State's Governor Jerry Brown.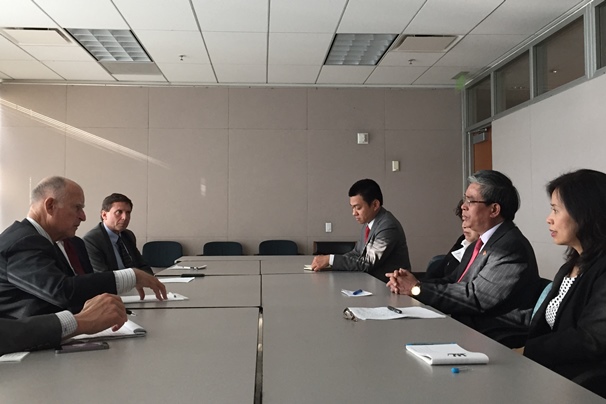 During their meeting in San Francisco city, the Ambassador said California is one of the most important US states to Vietnam as the locality houses a large number of Vietnamese nationals.
Hailing Vietnam's development as well as relations between the Southeast Asian nation and the US, Jerry Brown said California has a long-standing relationship with Asia and particularly Vietnam.
The Governor commented on trade between Vietnam and California, which, he said, now stands at 9.2 billion USD.
Showing his special interest in climate change, he called on Vietnam to back his initiative and join efforts to implement commitments to reducing greenhouse gas emissions.
In reply, Ambassador Vinh said Vietnam is one of the countries most affected by climate change worldwide, particularly the Mekong Delta region.
Given this, the Vietnamese Government has put forth a string of policies and action plans to cope with the global issue, the diplomat noted.
Host and guest also exchanged views on regional and international matters of mutual concern as well as challenges and opportunities afforded by the Trans-Pacific Partnership (TPP) agreement.
Ambassador Vinh extended Vietnamese leaders' invitations to Brown to soon visit Vietnam, to which the Governor said he will visit the country as soon as possible.
As part of his official visit to California, Ambassador Vinh also met with Mayor of San Francisco city Edwin Lee and Los Angeles city's Deputy Mayor of Economic Development Kelli Bernard.
At the meetings, the diplomat affirmed that Vietnam attaches importance to developing ties with US states and cities.
Vinh expressed his delight at the fruitful twinning relationship between Ho Chi Minh City and San Francisco, saying he believes this will be a cooperation model for other localities of the two countries.
Mayor Lee said San Francisco recently approved the SF Asia Programme that aims to strengthen relations with Southeast Asian nations, particularly Vietnam.
He noted his belief that following the implementation of the TPP agreement, bilateral cooperation will be further expanded, especially in economics, trade, agriculture, healthcare, pharmaceutical products, bio-technology, information technology and education.
According to the Mayor, San Francisco plans to recognise Vietnamese as one of its main languages, as the city is currently accommodating a strong Vietnamese community.
Vice Mayor Bernard said she believes the TPP will bring about huge opportunities for the two countries to boost their collaboration in economics, trade, agriculture, high-technology, education and people-to-people exchange.
She voiced her hope that Vietnam would support the connectivity between the two countries' small and medium-sized enterprises (SMEs) as well as affiliations between universities.
During his stay in California, Ambassador Vinh also had working sessions with businessmen, who said they are interested in investing in Vietnam and suggested the country assist SMEs from the US to penetrate the market, particularly in agriculture, tourism and e-commerce.
He also visited the staff of San Francisco Chronicles, one of the most long-standing newspapers in California.