On my visit to California this week, I hope to toast my gracious hosts with a glass of wine from a nearby vineyard and celebrate with them the growing popularity of their wines in my homeland of Vietnam. 
For California wine producers, Vietnam is now their ninth leading export market, with $20 million in sales last year, up 55 percent from 2013. Over the past five years, U.S. exports of wines to Vietnam have increased at an annual rate of 37 percent, with California's vintages accounting for 95 percent.
Wine is only one among countless U.S. exports to Vietnam, valued at $5.5 billion last year. West Coast states, particularly California, are leading the way in reaching out to out fast-growing markets.
At a time when too many people believe that "globalization" benefits only a fortunate few, I'm traveling to California – my first visit as Vietnam's ambassador to the U.S. – to help explain how expanded trade and other exchanges benefit the vast both of our societies. I'm eager to meet with Californians, including Vietnamese Americans.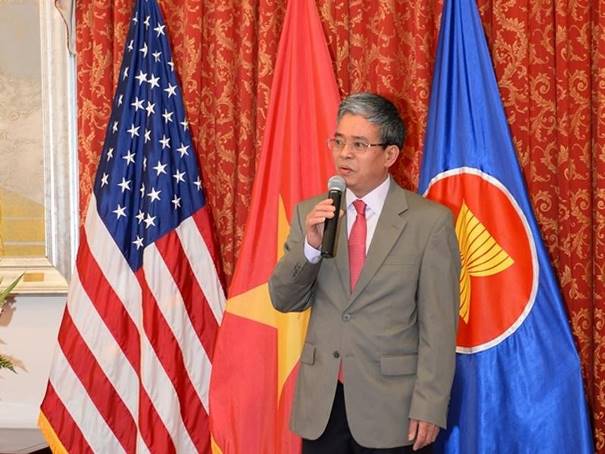 America and Vietnam are on the threshold of a stronger, broader and more rewarding relationship. It is 20 years after lifting the trade embargo and establishing diplomatic relations, 14 years after our bilateral trade agreement and eight years after the U.S. granted Vietnam permanent normal trade relations as part of our membership in the World Trade Organization.
In July 2013, Presidents Barack Obama and Truong Tan Sang launched the U.S.-Vietnam Comprehensive Partnership to promote cooperation in trade, education and culture, defense and security, environment and health. This partnership has been strengthened by Obama and General Secretary Nguyen Phu Trong, who made a historic visit to Washington, D.C., in July.
Our economic ties would be strengthened by the adoption of the Trans-Pacific Partnership, a historic trade agreement linking the U.S., Vietnam and 10 other countries with 40 percent of the world's economic activity and one-third of international commerce.
For American workers, businesses and consumers, more trade with Vietnam brings great and growing benefits. With bilateral trade totaling almost $35 billion in 2014, Vietnam is already America's 27th largest goods trading partner.
Trade with Vietnam is especially conducive to California's economy, with its strong agricultural base, its longstanding ties to Asia and its focus on high-technology sectors. In 2012-13 season, Vietnam imported $333 million worth of agricultural goods from California, making my country the 10th largest market for the Golden State's farms and fields. In 2014, California exported $1.21 billion worth of manufactured products to Vietnam, more than double the total 10 years before.
With a growing economy and a youthful and increasingly educated population, Vietnam is one of the world's best bets for the future. That is why I'll be inviting investors to compete for new contracts and customers.
California is home to some of the world's most entrepreneurial and inventive people: Vietnamese Americans. In addition to healing wounds from a war that scarred both our societies, I will be encouraging more Vietnamese Americans to help build the land of their heritage. We admire their achievements in America, and we honor the heritage we hold in common.
The ties between our countries are also strengthened by the nearly 17,000 Vietnamese students attending college in the U.S., including more than 5,000 studying in California. These students are gaining an understanding and appreciation of America, and they will return home eager to do business with the country that has become one of Vietnam's leading economic, educational and diplomatic partners.
I am coming to California, eager to visit the state that so strongly embodies America's spirit. Transcending the past, the U.S. and Vietnam are traveling together to the future that we're forging together. And I'll drink to that, with California wine.