National Assembly Chairman Nguyen Sinh Hung left New York for Boston on September 1, beginning his official visit to the US after attending the 4th World Conference of Speakers of Parliament. The visit is made at the invitations of President Pro Tempore of the US Senate Patrick Leahy , Speaker of the US House of Representatives John Boehner and US Senator John McCain.
* At a meeting with Senate President of Massachusetts Stanley Rosenberg, National Assembly Chairman Nguyen Sinh Hung expressed his pleasure to visit Massachusetts where late President Ho Chi Minh lived and worked in the early 20th century on the journey of seeking ways to save his country.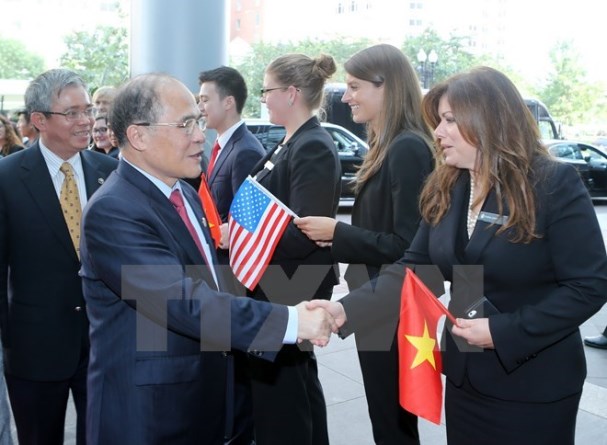 Chairman Hung said his visit is to continually reinforce and propel the two countries' relations forward, especially the parliamentary ties, adding that he believes the high-level visits between the two sides will create a strong impulse for bilateral cooperation across the board. He proposed the Massachusetts Senate President continue to create all favourable conditions for Vietnamese people, especially students, to live in the State as well as support the establishment of the Full Bright school in Vietnam and facilitate education and scientific research cooperation between the two countries. 
Stanley Rosenberg noted that with strengths in finance, tourism, education and training, Massachusetts is willing to collaborate with Vietnam in the fields, saying the two sides are expected to increase effective cooperation in economy, trade, and investment on the ground of their mutual understanding and common goal of tightening cooperative ties. 
Massachusetts will create all optimal conditions for local and Vietnamese businesses to explore investment cooperation opportunities, he confirmed. 
* During a meeting with Speaker of the Massachusetts House of Representatives Robert A.DeLeo, National Assembly Chairman Nguyen Sinh Hung informed his host of the outcomes of the freshly-ended 4th World Conference of Speakers of Parliament in New York. 
The two leaders exchanged measures to elevate the cooperation between Vietnam and the US to a new height, specifically in education, trade and investment. They agreed to increase delegation exchanges, actively promote trade and share legislative experience. 
* While visiting the Harvard University on the same day, the top Vietnamese legislator expressed his admiration at the world-famous university, which trained a lot of global leaders, economists and billionaires such as US President Barack Obama, CEO of Microsoft Group Bill Gate, former US President George Bush, former US Secretary of State Henry Kissinger, former US President John Kennedy, and UN Secretary-General Ban Ki-moon. 
Speaking with the university's leaders, experts and researchers, Chairman Hung said Vietnam and the US are seeing enormous new cooperation opportunities that need to be optimised, including education and scientific research. He said he hopes the Harvard University will increase scholarships for Vietnamese students and continue sharing experience in teaching and training with Vietnamese universities. 
Experts from Harvard's Vietnam Programme said they are willing to share their know-how and assist Vietnam in building economic management and development policies. They expressed their belief that the Trans-Pacific Partnership (TPP) Agreement will be adopted soon, recommending that Vietnam should place special focus on improving the operational capacity of businesses, especially private ones, to help them adapt to post-TPP economic deals. 
They also showed their impression on Vietnam's development achievements amid regional and global economic crises, saying that this is a firm foundation for the local economy to maintain stability and continue growth in the coming time. They suggested Vietnam expand investment attraction and develop new modern industries, along with pushing ahead with negotiations to reach the signing of international economic agreements and gaining access to the global production value chain. 
Recognising the outcomes in fine-tuning law in Vietnam, especially in economic and trade management policies, the specialists recommended that the Southeast Asian country further enhance capacity for policy makers and enforcement agencies. 
* During his stay, National Assembly Chairman Nguyen Sinh Hung visited the Harvard Kennedy School of Government, which is home to around 1,000 overseas students, including those from Vietnam.