The fourth World Conference of Speakers of Parliament commenced in New York city, the US, on August 31 (local time) with the attendance of 140 parliamentary delegations from around the globe. National Assembly Chairman Nguyen Sinh Hung led the Vietnamese delegation to attend the event. 
In his speech, National Assembly Chairman Nguyen Sinh Hung said the event was an occasion to review the commitments made and to re-confirm them in a changing world.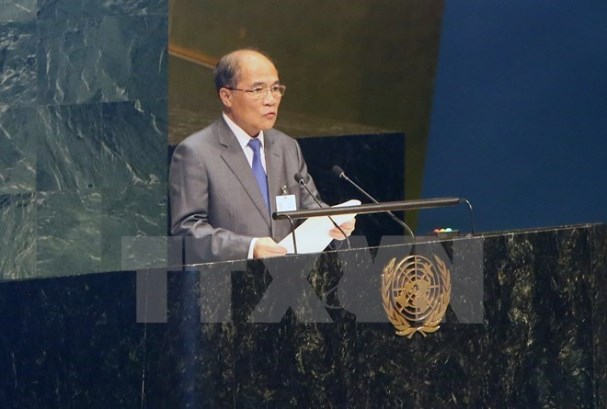 National Assembly Nguyen Sinh Hung stressed that with strong political resolve, IPU member parliaments approved the Hanoi Declaration on "The Sustainable Development Goals: Turning Words into Action" at the 132 nd IPU Assembly in Hanoi last March. They reaffirm their vision of people-centred sustainable development based on implementing human rights, empowering all individuals to exercise their full potential, while ensuring international peace and security, and observing the UN Charter and international law, he noted. 
The leader made clear that Vietnam always desires to maintain peace, hence the country wants to address conflicts peacefully based on respect for the UN Charter and international law as well as commitment to no use of or threats of using force. Vietnam strongly condemns violence and the threats of using force and terrorism, the NA leader said.
On the sideline of the conference, NA Chairman Hung had bilateral meetings with his counterparts from a number of countries, leaders of the United Nations (UN) General Assembly and the President of the Inter-Parliamentary Union. He presided over a grand banquet celebrating the 70th anniversary of Vietnam's August Revolutionary and National Day (September 2) at the UN headquarters. The NA Chairman also visited the New York Stock Exchange , the One World Trade Centre and the National September 11 Memorial & Museum in New York./.