VNA - Vietnam hopes to enhance and deepen its relationship with the United States on all bilateral, regional and global scales, National Assembly Chairman Nguyen Sinh Hung said at a meeting with US Secretary of State John Kerry in Washington on September 8.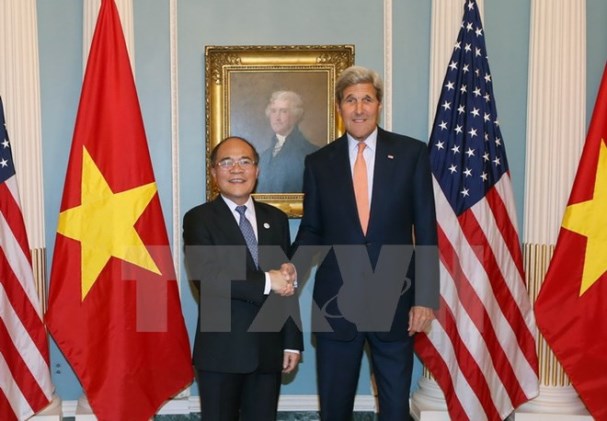 Chairman Hung said economic and trade cooperation is the highlight in bilateral ties since the normalisation of their relationship 20 years ago, with trade turnover now reaching 40 billion USD. He added he believes their relations will continue to grow. 
For his part, Secretary Kerry said the US will work with Vietnam and other countries in the region to conserve and use effectively Mekong River resources. The US will also assist Vietnam in coping with climate change, especially rising sea levels. According to Kerry, the US is ready to help Vietnam's NA in building and revising laws in compliance with the 2013 Constitution as well as in humanitarian issues and activities to address war consequences such as clearing minefields and supporting Agent Orange victims. 
The two sides agreed to enhance their cooperation towards maintaining peace and stability in the East Sea for the benefit of the region and the world. The US side expressed support of Vietnam's stance on dealing with disputes by peaceful means in compliance with basic principles of international law. 
Hung and Kerry also agreed that both sides need to push the negotiation on the Trans-Pacific Partnership and the approval of the pact after its signing by their legislative bodies for mutual interest. 
* On the same day, NA Chairman Hung met with US Trade Representative Michael Froman. 
The NA leader affirmed Vietnam's consistent policy of international economic integration, and the Vietnamese National Assembly is aware of the need to adjust domestic laws in compliance with the guidelines set out by the TPP. Froman appreciated Vietnam's dedication to the free trade deal, and said it will benefit all countries involved./.