National Assembly Chairman Nguyen Sinh Hung had separate meetings with President Pro Tempore of the US Senate Patrick Leahy and Senator John McCain on early September 10 (Vietnam time), saying that Vietnam treasures ties with the US. 
The National Assembly of Vietnam always attaches importance to ties with the US, and hopes to further enhance and deepen the comprehensive partnership between the two countries, Hung said.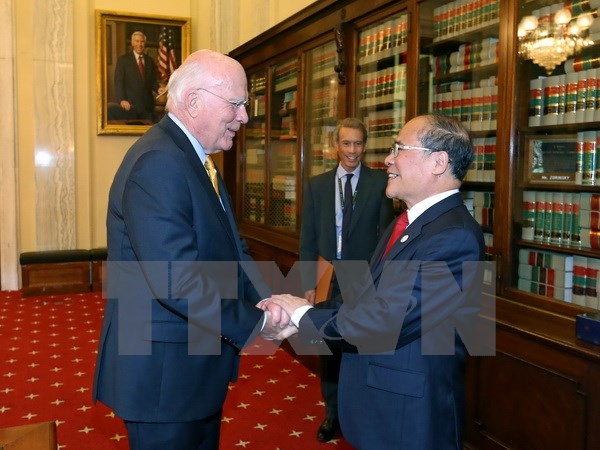 National Assembly Chairman Hung expressed his joy at important results in the relations of the two countries after 20 years of establishing diplomatic ties, and praised the two Senators' contributions to promoting ties between the two countries in recent years. 
Vietnam wishes to enhance cooperation with the US in law making to serve its law reform process because the latter is experienced in the field, Hung said.
He suggested the two countries' legislatures establish an annual dialogue mechanism, organise programmes to exchange information and experience in legislative activities, and issues of shared concern. 
President Pro Tempore of the Senate Patrick Leahy spoke highly of Vietnam's socio-economic development achievements in the region and the world, saying that he believes in the country's bright future. 
He stated that the US Congress is keen to step up comprehensive cooperation with Vietnam, thus fostering mutual understanding and relationship between the two peoples. 
 Hung and Leahy emphasised the importance of bilateral cooperation between the two countries in maintaining peace, stability, cooperation and prosperity in the region and the world. 
For his part, Senator John McCain expressed his hope that Vietnam and the US as well as other countries involving in negotiations on the Trans-pacific Partnership (TPP) agreement would reach a consensus on the deal soon. 
He expressed his concern about recent situations in the East Sea, saying that all disputes should be settled by peaceful measures, on the basis of respect for international law. 
The same day, the Vietnamese top legislator and his entourage left Washington DC for Hanoi, wrapping up his eight-day official visit to the US./.