Ambassador Pham Quang Vinh presented his credentials to President Barack Obama on February 23rd at the White House as Ambassador Extraordinary and Plenipotentiary of the Socialist Republic of Viet Nam to the United States of America. 
    
     
      President Obama welcomed Ambassador Pham Quang Vinh and his family to Washington. 'I look forward to working with you to deepen the growing relations between our two countries,' said President Obama. The President underscores that Viet Nam and the United States share a unique history that experiences a dramatic transformation over the past 20 years and that the US - Viet Nam Comprehensive Partnership launched during President Truong Tan Sang's visit to Washington in July 2013 serves as the framework for advancement of bilateral relations. 'This year we celebrate the 20th anniversary of normalization of bilateral relations, which presents a unique opportunity to continue efforts to strengthen our relations,' said President Obama. He expressed his commitment to building on this positive momentum and taking the US - Viet Nam partnership to the next level of engagement. The United States looks forward to strengthening collaborative bilateral and regional efforts to enhance trade, address energy needs, ensure environmental sustainability, and safeguard regional security.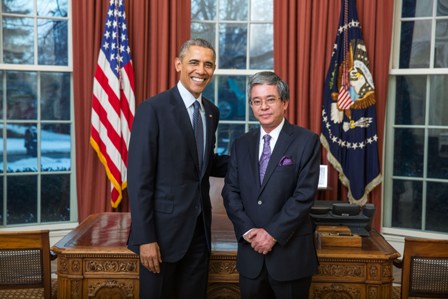 'It is my great honor to serve as my country's fifth Ambassador to the United States of America,' said Ambassador Pham Quang Vinh. 'As Ambassador, I will offer the best of my service to further promote and deepen our two countries' fine relations, bilaterally and multilaterally.' Ambassador Vinh conveyed President Truong Tan Sang's invitation to President Obama and the First Lady to visit Viet Nam in 2015, underlining that such visits by President Obama as well as the CPV General Secretary to the United States would be most opportune and historic in this commemorative year of the 20th anniversary of bilateral diplomatic relations.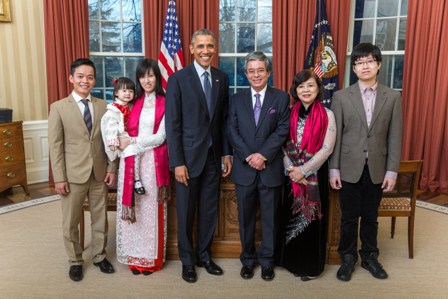 Ambassador Vinh emphasized the need to deepen the Comprehensive Partnership between the two countries in each and every nine priority areas, from political to economic ties, defense and security, science and technology, education, people to people exchange, among others in the interests of the two countries and people, as well as for peace, security and prosperity in the region and the world at large. He also acknowledged that the year 2015 is important as the two countries celebrate the 20th anniversary of diplomatic ties, promote the exchange of high level visits, and enhance regional cooperation and the conclusion of the Trans-Pacific Partnership.