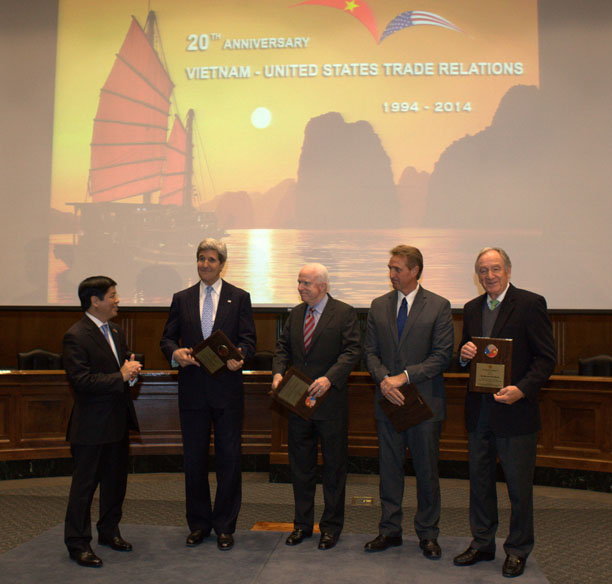 The Vietnamese Embassy in the United States held a ceremony to mark the 20th anniversary of the normalisation of trade ties between Vietnam and the US on February 11. 
On February 3, 1994, then US President Bill Clinton announced the lifting of a trade embargo against Vietnam, ushering in a new chapter of the Vietnam-US relationship, Vietnamese Ambassador to the US Nguyen Quoc Cuong quoted President Truong Tan Sang in his recent letter to ex-President Clinton at the event. 
The decision, which marks a historical milestone and a turning point in the bilateral relations, has benefited both as well as the peace and prosperity of Asia-Pacific, he stressed. 
With the courage, belief, brainpower and vision of both sides, the two nations have seen further developments in their relationship with the establishment of a bilateral comprehensive partnership in July 2013, Cuong highlighted. 
Two-way trade hit 30 billion USD, a level 130 times greater than in 1994. Both sides enjoy an annual trade growth of 20 percent. 
Vietnam is now one of the 29 key partners of the US, while the US is ranked 7th among foreign investors (with total direct investment of 11 billion USD) in the Southeast Asian nation. 
On the occasion, former President Bill Clinton and former Secretary of State Hillary Clinton sent congratulatory messages and video clips, conveying their wishes for deeper and stronger development in the Vietnam-US ties for the benefit and prosperity of the two peoples. 
In her video clip, Hillary recalled Vietnamese people's hospitality when she accompanied her husband during the first ever visit of a US President to Vietnam in 2000. 
She said when she returned to Vietnam in 2010, she was surprised at the country's socio-economic achievements, and expressed her belief that the bilateral ties will be further tightened and expanded over the next two decades. 
Recounting the difficult time that Vietnam and the US had undergone, Secretary of State John Kerry and Senator John McCain - two ex-servicemen in the American War - shared their ceaseless efforts in campaigning for the removal of the trade embargo against Vietnam, paving the way for mutually beneficial bilateral cooperation. 
Kerry said he figured out during his visit to Vietnam last July that the country has great potential to develop ties with the US. 
Meanwhile, Senator McCain said he was amazed at the fast-paced development of the Vietnam-US links over the past 20 years, with more than 16,000 Vietnamese students pursuing higher education in the US. 
Amid an atmosphere of solidarity, friendship and mutual understanding, the invited guests enjoyed Vietnamese traditional specialities and looked at photos recording the historical moments in the history of the two countries over the past 20 years.-VNA