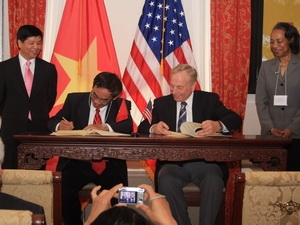 There are yet many opportunities to boost higher education cooperation between Vietnam and the US, participants said at a recent workshop in Washington. 
Education is considered a priority in the Vietnam-US relationship. 
In 2012, there were nearly 16,000 Vietnamese students in the US , the highest number among Southeast Asian nations and the eighth in Asia . The number has grown significantly since 1985, when the figure was only 800. 
At present, the US is Vietnamese students' second choice behind Australia , which had 20,000 Vietnamese students in 2012. S cience and technology courses in the US are particularly attractive to students seeking an education abroad. 
Vietnamese Ambassador to the US Nguyen Quoc Cuong said cooperation in education and training saw the strongest development among all the fields of cooperation between Vietnam and the US last year, adding that the two Governments also prioritise developing bilateral ties in this field. Besides, universities and institutes have also been active to work together and organise exchange programmes. 
However, participants expressed their concerns over the effectiveness of education in the US because of the language barrier and cultural differences. Many people said that an education strategy between the two countries is needed.-VNA