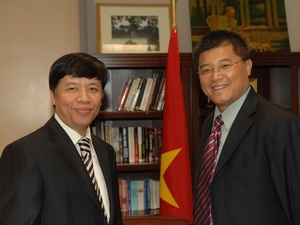 At a reception for representatives of the Business Association of Overseas Vietnamese – US branch in Washington on May 13, the newly-appointed Vietnamese ambassador to the US, Nguyen Quoc Cuong, pledged to provide more support for the Vietnamese community in the US and create favourable conditions for businesses of Vietnamese Americans to invest in Vietnam.
Ambassador Cuong was pleased with the strong development of the Vietnamese community in the US , which accounts for half of over 4 million overseas Vietnamese.
He expressed his hope that with its contingent of 120 members living in all US states and operating in various fields ranging from culture, law and science to import-export and finance, the branch will continue to bridge business activities in both Vietnam and the US. The ambassador affirmed that the Vietnamese State and the Embassy in the US will create favourable conditions for US businesses to invest in Vietnam. He said he wished that the branch's representative offices in the states of Virginia , Texas and California will support Vietnamese businesses which want to operate in the US , thus fostering the business cooperation between the two countries.
David Huy Ho, President of the US branch, informed the ambassador of the development of the branch since it was set up in April 2010 as well as its underway projects, including the establishment of a Vietnam trade centre in Baltimore city in Marryland State .
On the same day, Ambassador Cuong received several outstanding overseas Vietnamese intellectuals and businesspeople, and representatives of the Vietnamese Association of Young People and Students in Washington .