Minister-Chairman of the Government Office Mai Tien Dung appreciated the US Agency for International Development (USAID) increasing its support for Vietnam over the past years during a working session with the agency's leaders in Washington DC on April 10.
Talking to USAID Administrator Mark Green, Minister Dung highlighted the nearly-two-decade cooperation between the Vietnamese Government Office and USAID and thanked the agency for implementing a number of programmes and projects funded through non-refundable official development assistance in Vietnam, including the environmental remediation of dioxin contamination at Da Nang and Bien Hoa airports and the Provincial Competitiveness Index assessment. He spoke highly of USAID's increase of its budget for supporting Vietnam by 40 percent over the last three years.
The official called on USAID to continue assisting the Vietnamese Government in institutional reforms and state governance, including building e-government.
Dung expressed his belief that bilateral cooperation will continue developing through the Country Development Cooperation Strategy in Vietnam for 2020-2024, which is being built by USAID. He also asked it to keep conferring with the Vietnamese side during the strategy making process so that this strategy can have the best assistance orientation.-VNA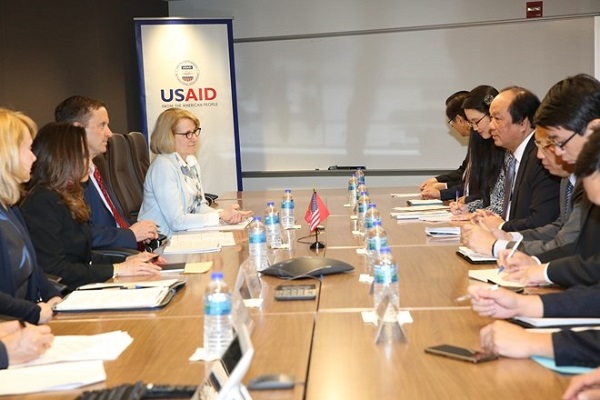 For his part, USAID Administrator Green said there are many cooperation projects between Vietnam and his agency, including those on addressing war consequences. The best way to enhance the two sides' cooperation is to work more on concrete projects so as to attain better results in the future, which will help further promote Vietnam-US relations, according to him.
Also on April 10, Minister Dung attended a roundtable meeting on investment policy with the Asia Group, its members and partners, and some other companies. Chairman and CEO of the Asia Group Kurt Campbell said the companies want to learn about the investment climate and investment chances in Vietnam.
Representatives of such firms as Google, AIG, Asia Pacific and VISA presented their investment in the country and expressed their delight at its reforms. They said the investment environment in Vietnam is increasingly attractive, which is a condition for them to increase investment.
Dung noted Vietnamese Prime Minister Nguyen Xuan Phuc has created many optimal conditions for US businesses operating in the country. To continue improving the investment and business climate, the Vietnamese Government is working hard to improve institutional quality, state governance capacity, stabilise macro-economy towards sustainable growth, and ensure social security. It is also focusing on tax reforms so as to meet international standards in this field, he said.
During his visit, on April 11, Minister and Chairman of the Government Office Mai Tien Dung had a working session with Charles Freeman, senior vice president for Asia at the U.S. Chamber of Commerce. Addressing the meeting, Dung emphasized that Viet Nam-U.S. relations have been growing finely over recent times, with two-way trade revenues maintaining a high growth rate, reaching US$60.28 billion, up 18% compared to 2017.
Touching on Viet Nam's policies in reforming administrative procedures, improving the business climate and supporting enterprises, the official said Viet Nam has signed and participated in 12 free trade agreements (FTAs), and is currently negotiating on the signing of four additional FTAs. Since 2018, Viet Nam has reduced 3,425 out of 6,191 business conditions and 6,776 out of 9,926 product lines subject to specialized inspection, thus helping to save over 18 million working days per year, equivalent to more than VND6.3 trillion annually.
For his part, Charles Freeman expressed his gratitude for Dung's contributions to the development of U.S. firms and their investment in Viet Nam. Many U.S. businesses at the working session are interested in the investment environment in Viet Nam, aiming to further boost trade relations between the two countries, he said.
Lauding the open opinions raised by enterprises, Dung voiced his pleasure as they agree with the way of improving the business climate and the transparency issue of the Vietnamese Government. He stated that the Vietnamese Government is focusing on boosting administrative reforms and economic growth in the direction of the Government being transparent with businesses and the people. Viet Nam also focuses on building e-government towards a digital government and a digital economy, in addition to accelerating institutional reforms to create transparency for people and businesses, promoting e-payment, and improving logistics performance. The determination of the Government of Viet Nam is to create a stronger clarity of accountability of state agencies with people and businesses./.