Ho Chi Minh City wishes to intensify relations with its US partners in many spheres, including trade, investment, personnel training, smart city management and high-tech, said Secretary of the municipal Party's Committee Nguyen Thien Nhan.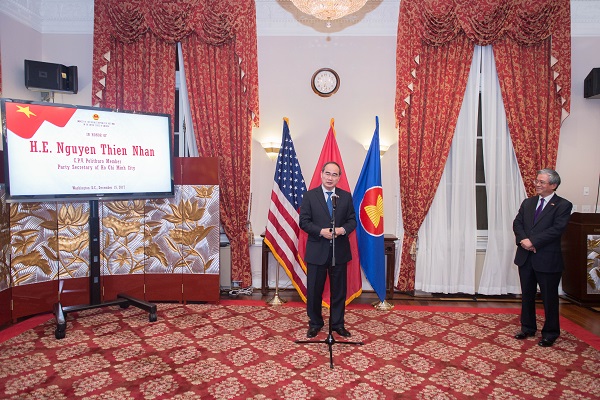 Nhan told US guests at a reception held at the Vietnamese Embassy in the US on December 15 that HCM City will continue to create optimal conditions for US partners.
He took the occasion to underline strong developments of the Vietnam-US comprehensive partnership in 2017, especially the visit to the US by Prime Minister Nguyen Xuan Phuc in May 2017 and the Vietnam visit by President Donald Trump in November the same year.
US Principal Deputy Assistant Secretary for Educational and Cultural Affairs Jennifer Zimdahl Galt congratulated Vietnam on its successful organisation of the Asia-Pacific Economic Cooperation (APEC) Leaders' Meeting and President Trump's visit, which, she said, has helped elevate the bilateral relationship to new high, and enhance the two countries' cooperation in many realms like national defence, regional security challenge response, trade-investment, post-war consequence settlement and people-to-people exchange,
She said HCM City is expected to contribute to exchanges and sharing of experience between Vietnam and the US for the training of Vietnamese young generations, as the southern metropolis houses a large number of US businesses and Fulbright University Vietnam, the first US university in the country.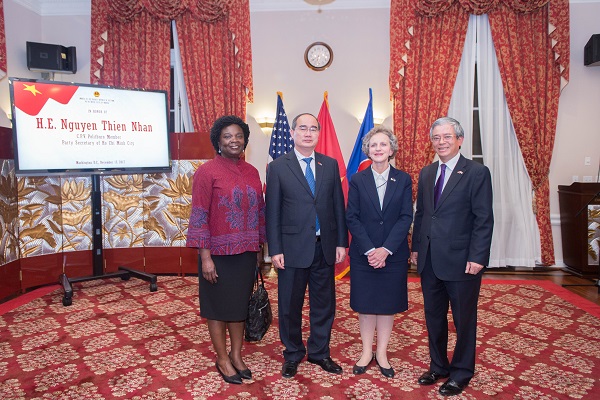 Besides Jennifer Zimdahl Galt, other guests at the reception included Acting Deputy Assistant US Trade Representative Karl Ehlers, Deputy Assistant Secretary of Defence Joseph Felter, Washington DC Deputy Mayor HyeSook Chun, World Bank Vice President Victoria Kwakwa and President and CEO of the US-ASEAN Business Council Alexander Feldman, among others.-VNA