New US Ambassador to Vietnam Daniel Kritenbrink asserted that he will make efforts to promote ties with Vietnam in various fields, prioritising trade, investment, maritime security, people-to-people exchange, humanitarian aid and post-war recovery efforts.
At a reception hosted by Ambassador of Vietnam to US Pham Quang Vinh, Kritenbrink lauded cooperative relations between the two countries in the past years and expressed his strong belief in a strong impetus for their comprehensive partnership in the coming time.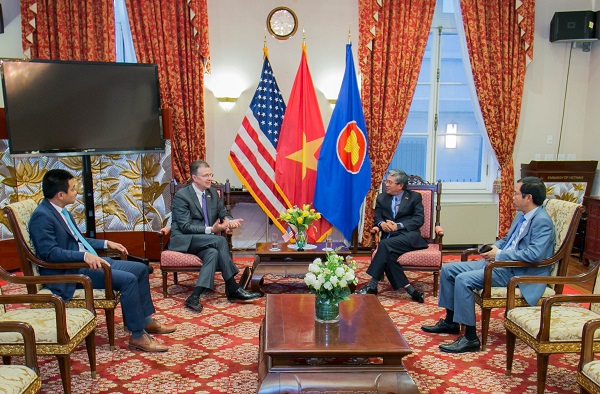 Ambassador Kritenbrink hailed contributions made by the Embassy of Vietnam in the US and Ambassador Pham Quang Vinh to the sound bilateral ties and thanked Vietnam's relevant authorities for supporting him to take the office soon.
He said he is learning Vietnamese in preparation for his mission in the Southeast Asian nation.
Congratulating the US diplomat on his new position, Ambassador Vinh said he believes that with considerable experience in relations with Asia and Vietnam, the new US ambassador will have a successful tenure, helping promote mutual understanding and friendship between the two peoples.
The two ambassadors recalled how they coordinated in significant events of the two countries in the past three years, including the US visits made by General Secretary of the Communist Party of Vietnam Nguyen Phu Trong in July 2015 and Prime Minister Nguyen Xuan Phuc in May, 2017 as well as former US President Barack Obama's visit to Vietnam in May, 2016.
They affirmed close coordination for the success of President Donald Trump's State visit to Vietnam and his attendance at the APEC Economic Leaders' Week, making contributions to the regional peace, stability, development and prosperity.
Vinh believed that the two embassies will continue cooperation and carry out measures to bolster comprehensive partnership between the two countries in the coming time.-VNA