Viet Nam will work with the new administration and Congress of the US to continue fostering the two countries' comprehensive partnership in economy, trade, national security, education, science-technology, and settlement of post-war consequences, Vietnamese Ambassador to the US Pham Quang Vinh has stressed.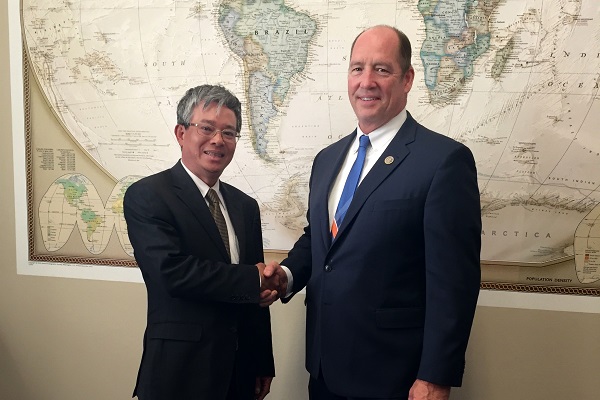 Ambassador Pham Quang Vinh made the statement at a meeting in Washington DC with Chairman of Asia and the Pacific subcommittee under the Foreign Affairs Committee in the House of Representatives Ted Yoho on March 09.
Vinh spoke highly of the support of the subcommittee and the Chairman for the Viet Nam-US relations and updated him on the reform process and external policies of Vietnam.
Ted Yoho expressed his delight at the fast and comprehensive development in the two nations' relationship, particularly in economy and education-training.
He praised the success of the Vietnamese community in the US in general and in Florida State in particular.
The US Congress attaches importance to cooperation with the Asian and Pacific region, including ASEAN partners and Viet Nnam, he said.
It also supports cooperation in ensuring peace, security, stability and development in the region, including the East Sea issue, Ted said, hailing the role of Viet Nam in the region, especially its hosting of the APEC Year 2017.
The two sides agreed to continue promoting the Viet Nam – the US comprehensive partnership in a practical, stable and long-term manner while maintaining high-level delegation exchanges and strengthening bilateral and multilateral cooperation.
Viet Nam will continue effectively implementing the commitments to free trade mechanisms to which it is a member, and creating favourable conditions for foreign businesses, including those from the US, Vinh said, adding that the country will also encourage domestic enterprises to invest in the US.
Regarding to the APEC Viet Nam 2017, the ambassador said Viet Nam will work closely with the US leaders and firms and those from other economies to create more impetuses for the development of the Asia-Pacific region, for the benefits and prosperity of the member economies and the whole region./.