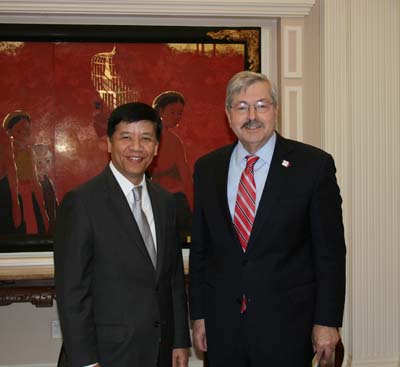 Ambassador Nguyen Quoc Cuong met with Governor of Iowa Terry Branstad at the Embassy on November 14th. 
Governor Terry Branstad congratulated the Ambassador on Vietnam's socio-economic achievements, spoke highly of Vietnam's economic integration policy and welcomed efforts made by Vietnam, US and others in TPP negotiation. Governor Branstad highlighted high trade growth between Iowa and Vietnam that included a 40% growth in Iowa's exports to Vietnam in 2011, particularly in agricultural products. He said that the state government put high priority in greater ties with Vietnam and planned to send Lt. Governor to lead a business mission to Vietnam in early 2013. 
Ambassador Nguyen Quoc Cuong expressed his appreciation for Iowa government's efforts and plans to promote ties with Vietnam. He reaffirmed Vietnam's desire to enhance relations between the two sides, not only in economic and trade areas but also in others such as education, agriculture, health care and development model experience sharing. He highly valued Iowa's wind power industry as well as scientific-technological application in agriculture sector which helped put Iowa as a leading state in this area. He also welcome Governor Brandstad's support for trade liberalization, particularly TPP negotiation.