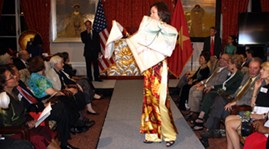 VOV - A charity program to raise funds for Vietnamese children with disabilities was organized by the Vietnamese embassy in the US and the Global Community Service Foundation (GCSF) at "Vietnam House" in Washington, D.C. on September 29.
The program, entitled "Charming Vietnam", was attended by international friends and overseas Vietnamese living and working in the US.
Vietnamese ambassador to the US, Nguyen Quoc Cuong, thanked the benefactors and involved organisations for their kindness and support in co-organising the event. He said that children, in any circumstances, have the right to make their dreams come true.
Marcia Selva, a representative of the GCSF said the event will contribute to helping disadvantaged children gain access to better living conditions and educational opportunities.
Participants at the fundraiser enjoyed a fashion show of traditional Vietnamese costumes and art performance by representatives from the Vietnamese embassy and US organizations.
Costumes, artwork and souvenirs from Vietnam were auctioned during the event  to raise fund for disabled children in Dong Ha district, Quang Tri province.