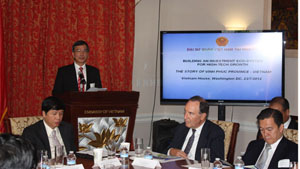 A seminar to promote US investment in Vietnam 's northern province of Vinh Phuc was held in Washington on July 23. 
According to Vietnamese Ambassador to the US Nguyen Quoc Cuong, Vinh Phuc is one of the localities with highest economic growth in Vietnam , posting a yearly average rate of 17 percent. 
The province has attracted a number of foreign investors but not many of them come from the US . 
Secretary of the provincial Party Committee Pham Van Vong pledged to provide support to foreign investors, saying that the province will consider them as its "citizens." 
Participants at the seminar, including representatives of US businesses, trade and investment agencies and researchers, heard presentations on the province's advantages, its potentials and preferential treatments. 
According to Sherman Katz, Senior Advisor of the Centre for the Study of Presidency and Congress, the province should send business delegations abroad to seek partners. 
It should also ask for suggestions from foreign investors operating in the province, he said. 
Meanwhile Frances Zwenig, President of the US-ASEAN Business Council, suggested Vietnam , in general, and Vinh Phuc province, in particular, pay attention to goods supply chains and study the demands of related companies.
The province should popularise its reputation as a province of favorable conditions for foreign investment and learn experiences from some US localities to make full use of its near-the-airport position, according to Director of Exserco Services Jeff Dilley.-VNA