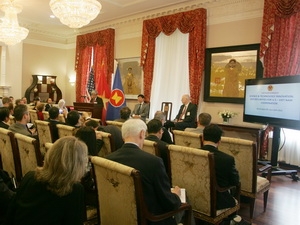 VNA - A forum on science and technology innovation – opportunities for Vietnam and US cooperation took place in Washington on June 22.
Addressing the event, Vietnamese Ambassador to the US Nguyen Quoc Cuong said there is great potential for Vietnam and the US to cooperate in science and technology. The relationship has seen swift development since the two countries inked a science and technology cooperation agreement in 2000.
At present, the two countries' scientists have cooperated in various fields ranging from information technology, telecommunications, environment, climate change, oceanography, and bio-technology to cooperation with the National Aeronautics and Space Administration (NASA) in air space research and nuclear energy development programmes.
Meanwhile, Minister of Science and Technology Nguyen Quan said that the Vietnamese Government will earmark two percent of GDP for science and technology by 2020.
From now until 2020, the country's science and technology sector will prioritise the development of information technology, bio-technology and energy technology apart from Internet security, defense technology, space technology, ocean and the environment, the minister said.
Science and Technology Adviser to the Secretary of State William Colglasier suggested Vietnam invest in increasing the quality of general and tertiary education, as well as university and national laboratories.
Around 70 Vietnamese and US managers and scientists shared international expertise in science and technology cooperation and activities needed to further bilateral cooperation.
Talking with the press afterward, Minister Quan said the two countries have great potential for scientific and technological cooperation and the top priority in the field is hi-tech.
The minister said Vietnam will cooperate closely with the US in nuclear energy to ensure safety for all plants built in the future.
Apart from helping Vietnam make legal documents and develop technical safety standards, the US and Vietnam are negotiating a civil nuclear cooperation agreement which, Quan said he hopes, will be signed next year.
During the visit to the US, Minister Quan visited the Westinghouse company, the world's leading company in nuclear energy.