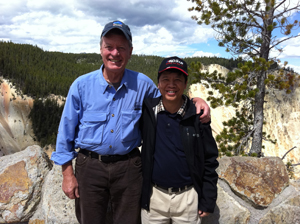 At the invitation of Senator Max Baucus, Ambassador Nguyen Quoc Cuong visited Montana from May 31th to June 3rd 2012. Ambassadors from Korea, Ausatralia, Brazil and Colombia also jointed the Montana visit. 
The Ambassadors visited Montana's production facilities and agrigultural farms in husbandary, food production, machinary, tourism, etc in Billings, White Sulphur Springs, Lewistown, Bozeman, Big Sky and Livingston. At these meetings, Ambassador Nguyen Quoc Cuong briefed Montana businessmen on Vietnam's economic performance and outlook, as well as oportunities for cooperation between Montana and Vietnam. Given advantages of either side, particularly in agriculture, Ambassador Cuong stressed that Montana businesses could expand trade and investment to Vietnam. Vietnam Embassy will serve as a bridge for Montana businesses who seek new opportunities with Vietnamese partners. 
Senator Baucus joined the Ambassadors throughout the visit in Montana.