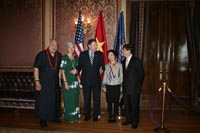 At the invitation of the President of Brigham Young University (BYU), a major US private higher education institution that has total enrolment of thirty thousand students, Ambassador Nguyen Quoc Cuong visited BYU and gave a lecture at BYU's Kennedy International Studies Center. Over 100 professors and students attended the Ambassador's speech on "Vietnam – Next Reform", which highlighted Vietnam's reform policies endorsed in 2011-2020 Socio-economic Development Strategy as well as cooperation prospect between Vietnam and USA.
Ambassador Cuong also met with over 50 Vietnamese students at BYU and awarded a recognition certificate to the Vietnamese Student Association in BYU. BYU President praised Vietnamese students' academic achievements and anticipated more Vietnamese students to BYU. 
During his visit, Ambassador Cuong also  met with Utah Governor Gary Herbert, US Senator Orrin Hatch and over 50 leading businesses in Utah to discuss cooperation potential between Vietnam and US and Vietnam and Utah in particular. Governor Gary Herbert informed that the Governor's Office recently hosted a business delegations to Vietnam and Utah businesses are confident in greater cooperation with Vietnam in future. Several Vietnamese businesses in Utah also expressed interest in investing in major projects in Vietnam and serving as a bridge between Vietnamese and Utah businesses. The Governor Office's statistics showed an increase of over 200% in Vietnam- Utah trade over the past 5 years. 
In his meeting with Mormon Church leaders in Salt Lake City, Ambassador Cuong made a clarification of Vietnam's policies on religion. Church leaders agreed that Mormon followers should also first respect laws and be good citizens. 
US Representative Eni Faleomavaega also joined Ambassador Cuong in his visit to Utah.