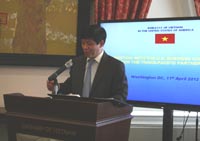 VNA - At a talks with representatives of about 50 US firms in Washington on April 11, Ambassador Cuong said that business support will help increase cooperation between the two countries as well as speed up negotiations on the Trans-Pacific Partnership (TPP) agreement.
He stressed that the TPP agreement is extremely important for its member countries, including the US and Vietnam , when taking into account the strong development and the level of liberalisation of trade in the Asia-Pacific region.
He urged the American business association to call on the US Congress and the administration to recognise the interests of Vietnam being in the TPP negotiations, particularly in the garments and footwear sectors and to grant the Generalised System of Preferences (GSP) and recognition for its market economy.
He asked US firms to continue to invest and trade with Vietnam and pointed out that the US is among Vietnam 's largest trading partners and bilateral economic cooperation has made gains in recent time.
Calman Cohen, a representative for the US business association at the talks, spoke of Vietnam's economic development and confirmed his association's support for Vietnam during the TPP negotiations process.-VNA