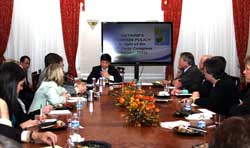 On March 5th, Vietnam Forum was inaugurated in "Vietnam House", Washington DC, followed by its 1st round-table on "Vietnam's foreign policy in light of 11th Party Congress. The Embassy of Vietnam has established the Vietnam Forum in order to promote dialogues on Vietnam-US relations and on issues of importance to security and development of Vietnam. Vietnam Forum is the channel for the Embassy to reach-out to scholars and policy makers in Washington DC. It also helps nurture the interests among young American researchers in Vietnam.
Participants in the first roundtable on Vietnam's Foreign Policy are American and Vietnamese American scholars from universities and research institutes,  representatives from Department of State, Department of Defense, the Capitol Hill, the World Bank, NGOs. At the Forum, His Excellency Ambassador Nguyen Quoc Cuong delivered a key-note speech, highlighting the socio-economic achievements of Vietnam over the 1st decade of 21st century, the vision of Vietnam to 2020 and and new development in foreign policy as adopted by the 11th Congress of the Communist Party of Vietnam, most notably Vietnam's international integration, comprehensive and integrated implementation of foreign affairs , and Vietnam as a pro-active and responsible member in international community…
Hailed as a practical channel for those who are interested in regional issues as well as Vietnam and Vietnam – US relations, participants shared comments and discussed issues such as Vietnam's foreign relations with major powers, ASEAN, TPP, East Sea, human rights, rule of law and so on in an open atmosphere. Further roundtables have been scheduled in coming months which will gather policy makers and scholars from Vietnam, USA and ASEAN.