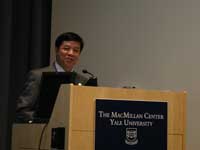 At the invitation of the Yale International Relations Association, a top-ranking university in US, Ambassador Nguyen Quoc Cuong visited the university and gave a lecture on "Evolving Regional Architecture in Asia - Pacific and Implications for the US". The lecture drew large audience from professors, researcher and students at Yale university. 
During the visit, Ambassador Cuong also had discussion with faculty members from Yale's Southeast Asian Studies Faculty on possible future cooperation, visited department library which houses the university's book collection on Vietnam and met with Vietnamese professors, PhD candidates and students at Yale university. 
The same day, Ambassador Cuong met with New Haven Mayor John DeStefano and discussed further cooperation between New Haven and Hue City.