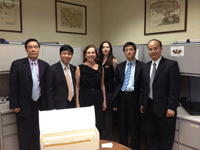 February 27-29 - Ambassador Nguyen Quoc Cuong visited the State of Florida and stopped in Tallahassee, Tampa and Jacksonville. He met with Secretary of State Daniel Detzner, Mayor of the City of Jacksonville Alvin Brown, members of Chambers of Commerce and also visited Central Florida University and Jacksonville Port.
At each and every stops, Ambassador Nguyen Quoc Cuong talked about the current situation in Vietnam, especially the political and economic developments. Ambassador Nguyen Quoc Cuong also shared his views on the prospect on U.S. - Vietnam relations, including bilateral progresses as well as the two countries cooperation in ASEAN and the Asia-Pacific region, including efforts to establish the Trans - Pacific Partnership as the 21 Century Free trade Agreement. He was greatly encouraged to learn that the business communities in Florida are very out-ward looking and eager to explore opportunities for trade and investment between Florida and Vietnam, especially in manufacturing, agriculture, and education, tourism. He extended the invitation to the Governor of Florida, as well as the business communities to visit Vietnam and other ASEAN countries in the near future.
Ambassador Nguyen Quoc Cuong was also happy to learn that the Vietnamese American communities, especially those affected by recent natural and environment disasters, are recovering and doing well.
At Central Florida University, Ambassador Nguyen Quoc Cuong spent time at the Main Library's Special Collections to study the Archimedes L. A. Patti Research Papers. The research papers was collection of images and documentation about President Ho Chi Minh collected by the late Leutenant Colonel Archimedes L. A. Patti, who was head of the Dear Team, a unit of the OSS, in Vietnam in 1945 to help train the Viet Minh in the fight against Japanese occupation during WWII. The collections included many original images that have not been made public.
Ambassador Nguyen Quoc Cuong successfully concluded the trip to the Sun-shine State and plans to visit again in early 2013 to attend the Vietnam Education Fund to be held at the Florida State University.