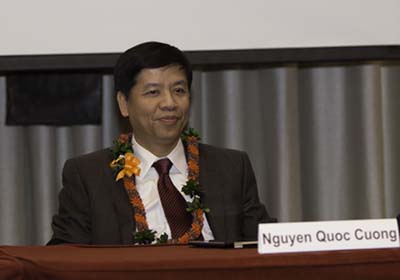 Ambassador Nguyen Quoc Cuong paid a working visit to Hawaii from November 7th to 10th 2012.
He attended the 4th "Engaging with Vietnam" Conference co-organized by the East - West Center, University of Hawaii, Monash University and Vietnam National University. This annual conference  which bring together researchers and scholars from Vietnam and other countries covered a broad range of Vietnam's economic, cultural, social, educational and security issues. In his openning remark, Ambassador Cuong highlighted the conference as "the very first major academic conference in the United States broadly focusing on Vietnam". Those  issues that are discussed in the two-day conference are not only highly relevant to Vietnam's socio-economic development strategy 2011-2020 but also fit well with Vietnam - US broader agenda. He also spoke about develoment of Vietnam-US relations and historical bonds between the two countries which dated back to Thomas Jefferson's Presidency in late 18th century to Vietnam's independence day and present time. He stressed that discussions should look at Vietnam as part of the shaping regional architecture and as a active member in the international community.
During the visit, Ambassador Cuong also visited and met with commanders of the US Pacific Command. He also joined Vice Minister of Education Nguyen Vinh Hien and other Vietnamese educators in a meeting with Vietnamese students in Hawaii. At the meeting, the students had been briefed about Vietnam's situation as well as government's education policy.