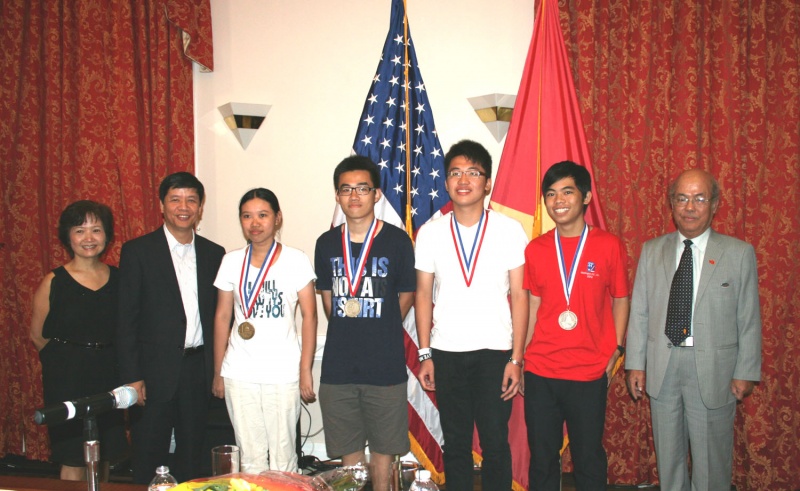 On July 30th, Ambassador Nguyen Quoc Cuong met and congratulated Vietnamese students who won prizes in the 44th International Chemistry Olympiad that was held in Washington DC.
The Ambassador praised the stdudents for their prizes, highlighted that these achievements have brought honor to Vietnam and encouraged the students to strive for more success in future.
All members of the Vietnamese chemistry student team won prizes at the Olympiad (IChO) that finished yesterday in Washington, DC.
Gold prize winner Pham Dang Huy, a 12th grader from Hai Phong's Gifted Tran Phu high school, scored 89.55 out of 100, while Nguyen Van Phuong of Ha Noi's Nguyen Hue high school and Nguyen Viet Hoang of the Ha Noi- Amsterdam gifted high school bagged silver prizes. A bronze prize was awarded to the only girl in the Vietnamese delegation Tran Thi Mai Huong of Nam Dinh's Le Hong Phong gifted high school. 
The students' mentor Dr Do Quy Son said the Vietnamese team had improved on their performance at the last IChO where they were only able to win silvers.
The IChO is an annual competition for the world's most talented chemistry students at secondary school level. Nations around the world send a team of four students who are tested on their chemistry knowledge and skills in a five-hour laboratory practical and five-hour written theoretical tests.
The programme is intended to stimulate student interest in chemistry through independent and creative solving of chemical problems. It also aims to promote international contacts in chemistry, friendship between young scientific workers of different nationalities, co-operation among pupils, and exchange of pedagogical and scientific experience in chemistry.