VNA - The Vietnam Embassy in the US celebrated the 20th founding anniversary of the two countries' diplomatic ties (July 12, 1995) with a ceremony in Washington D.C. on July 30. 
Addressing the event, Vietnamese Ambassador Pham Quang Vinh thanked US officials, scholars and people for their support to the development of bilateral ties over the past 20 years. 
This year is a milestone in Vietnam-US relations given General Secretary of the Communist Party of Vietnam Nguyen Phu Trong's historic visit to the US and talks with President Barack Obama in early July. 
During the visit, the two countries issued a joint vision statement to intensify their comprehensive partnership set up by Presidents Truong Tan Sang and Obama in 2013, Vinh added. 
The diplomat said in the last two decades, Vietnam and the US have made great strides across the board with trade shooting up 70 times from 1995 to reach 36 billion USD last year and with the US as the fourth largest investor in Vietnam. 
The nations are trusted partners in global and Asia-Pacific platforms such as the Trans-Pacific Partnership (TPP) agreement, he noted. 
He added that they are also working closely with other partners within the framework of the Asia-Pacific Economic Cooperation forum, the East Asia Summit and the ASEAN Regional Forum for regional peace, security and prosperity, including maritime security and freedom in the East Sea, water resource security and sustainable development in the lower Mekong River. 
At the ceremony, Senator John McCain – Chairman of the US Senate Committee on Armed Services – valued the current relations between the two countries and noted that their ties have grown beyond expectations in various aspects, including economics and education. 
He said the US Congress's granting of the Trade Promotion Authority that expands President Obama's power to move ahead on the TPP is a strategic signal of the US's strengthened commitment to the Asia-Pacific and its partners in the region.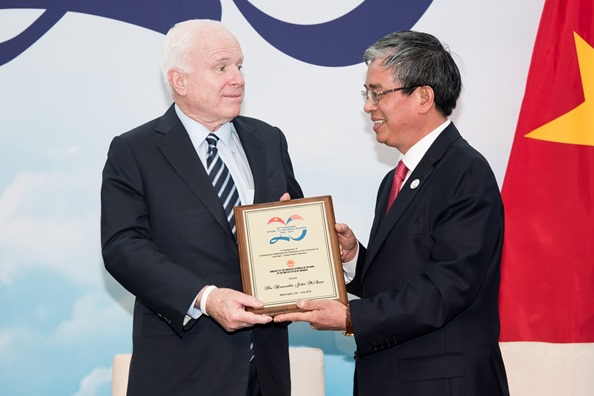 However, the US and Vietnam are facing new security challenges, McCain said, adding that amidst China's continued construction and militarisation in the East Sea, Washington D.C. sides with Vietnam in opposing activities that change the status quo in the waters. 
The Senator also called on the US to consider easing the ban on the sale of lethal weapons to Vietnam. 
For his part, Assistant Secretary of State for East Asian and Pacific Affairs Daniel Russell underlined the substantial and comprehensive progress of Vietnam-US relations during the last 20 years. 
The US is currently hosting 17,000 Vietnamese students and about 85,000 tourists from the Southeast Asian country visited the US last year. Educational cooperation and people-to-people exchanges are highlights of their linkages, he said.