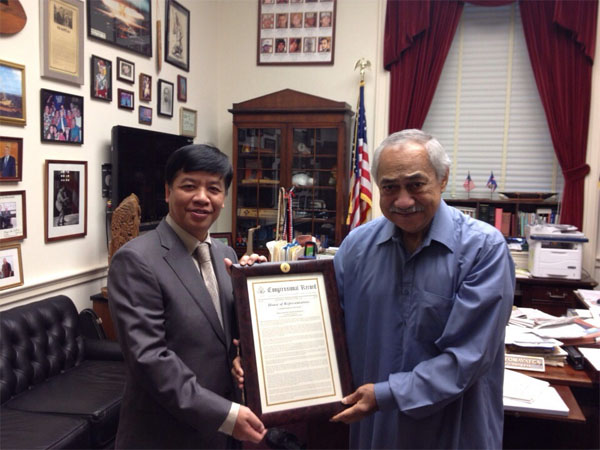 VNA - Congressman Eni Falemavaega of the House Committee on Foreign Affairs has released a statement commending Vietnam's Universal Periodic Review (UPR) report which was approved by the UN Human Rights Council in Geneva on February 8.
In his statement, Falemavaega hailed Vietnam's achievements in the report, including freedom of expression, press, association and religion, as well as ensuring the right of prisoners.
He acknowledged Vietnam's efforts in international cooperation on human rights, including its annual human rights dialogues with a number of countries and partners including the US and the European Union.
"These dialogues have produced positive outcomes. They not only enhance the understanding and relationship between Vietnam and its partners, but also bring about discussions on best practices to address human rights matters of mutual concern," he said in the statement. 
He highlighted the freedom of expression, press and information in the country, which is reflected through an increase in the number of publications and radio and TV channels in Vietnam. 
"Freedoms of association and assembly are guaranteed by the Constitution (Article 69) and are legally protected in laws and by-law documents," he stressed.
The Congressman recalled his visits to Vietnam in his capacity as former Chairman and current Ranking Member of the House Foreign Affairs Subcommittee on Asia and the Pacific, where he attended different religious services in various houses of worship.
"I have always found Vietnam to be a place favourable for religious activities and I appreciate that Vietnam is working to protect activities of religious groups by laws," he said.
"Much more could be said about the positive developments in Vietnam regarding religious freedom, healthcare, the economy, education, gender equality and other areas of importance."
On April 7, the House of Representatives issued the Congressional Record acknowledging Falemavaega's statement.
The same day, Falemavaega handed over the Congressional Record to Vietnamese Ambassador to the US Nguyen Quoc Cuong. Ambassador Cuong 
reiterated Vietnam's consistent policy of safeguarding and promoting human rights as well as its efforts in the field.